11 Best Anime Romance You Could Ask For
Your heart will surely flutter when watching one of these Romance-themed anime from this list. The chemistry between the lead characters will be sweet, or even intense, and you will not help but to ship and cheer on these relationships.
Some of these shows will not feature typical or cliche love stories, but make no mistake, you will still find these very interesting and give you a whole new perspective on love and people in general.
Take for example, Ore Monogatari!!, an intimidating boy with a heart of gold who gets paired with a sweet and cute girl. Unexpected love blooms and you'd find yourself basking every minute of it.
1. Shigatsu wa Kimi no Uso (Your Lie in April)
The sound of music and the beautiful romance is one of the reasons this anime is perfection. It shows how music can be a big impact in our lives. Through their journey to let go of their past and strive to grasp a brighter future together.
via: Files
2. Ore Monogatari!! (My Love Story!!)
Takeo Gouda has a heart of gold but can look scary and intimidating, he may be completely different than the usual main characters but he is kinder and more romantic making the show and his love story definitely worth watching.
via: Imgur
3. InuYasha
A story about the half demon Inuyasha and Kagome. They partake a lot different journey's together, gradually, they begin realizing that their hearts are for one another
via: Wikia
4. Anohana
Anohana explores how our childhood memories can affect us in the present and just how important they are to us .
via: Files
5. Hotarubi no Mori e (The Light of a Firefly Forest)
Hotarubi no Mori watches a love story being unfold between a forest spirit Gin and a girl Hotaru in this captivating romantic anime film.
via: Files
6. Nodame Cantabile
Nodame Cantabile is an older classic anime that shows music can be a very big part of our lives it tellsa love story between Megumi and Chiaki
via: Files
7. Byousoku 5 Centimeter (5 Centimeters Per Second)
This romantic anime film explores the power of love and shows how pain can be a very hard thing in life, it will surely hit you right in the feels.
via: Pinimg
8. Romeo x Juliet
From the very popular William Shakespeare's play of Romeo and Juliet this romantic anime will also tell the tale between the two lovers.
via: Wikia
9. Kokoro Connect
Members of the Cultural Research Club start switching bodies with each other all of the sudden and without explanation. This even made them realize their feelings with one another.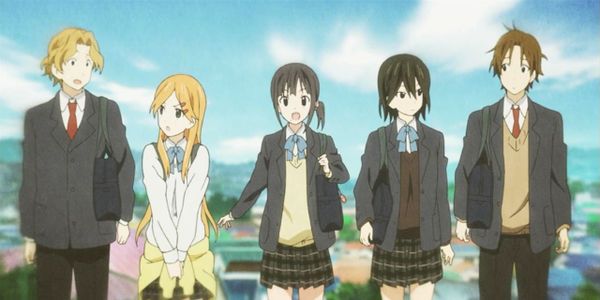 via: Care2
10. Kaichou wa Maid-sama!
Misaki works a part time job in a maid's cafe. While hiding her secret she was later found ouy by Takumi. They later soon develop a cute relationship with each other.
via: Wikia
11. Akagami no Shirayuki-hime (Snow White with the Red Hair)
A sweet and heart-warming romantic tale of Zen and Shirayuki. The story is smooth and relaxing and no really bad drama happening between their relationship together.
via: Anime-evo