11 Hilarious Signs That Made Us Laugh Out Loud
If there were to be an award show for the best signs we've ever seen, these would all win. Some of them are witty, some of them have perfect puns, but all of them are hilarious. These are the signs that turn your crap day into one filled with laughter. You will surely bend over with laughter before you reach the end of this list. 
1. Profitable marketing technique!
In the battle of beer versus bears, beer will always win.
via:
Buzzfeed
2. This should do the trick.
I'm guessing the keep out sign wasn't cutting it.
via:
Buzzfeed
3. When dating apps get you nowhere...
I guess you get desperate.
via:
Buzzfeed
4. To the tune...
This worked surprisingly well for me.
via:
Buzzfeed
5. Coffee is love, coffee is life.
Listen to your silent screams, I'd buy coffee here for this!
via:
Buzzfeed
6. Can you imagine?
I dont want to imagine a world where pumpkin spice tacos exist but this did make me laugh really hard.
via:
Buzzfeed
7. Please, please stop.
There is such a thing as too much rain.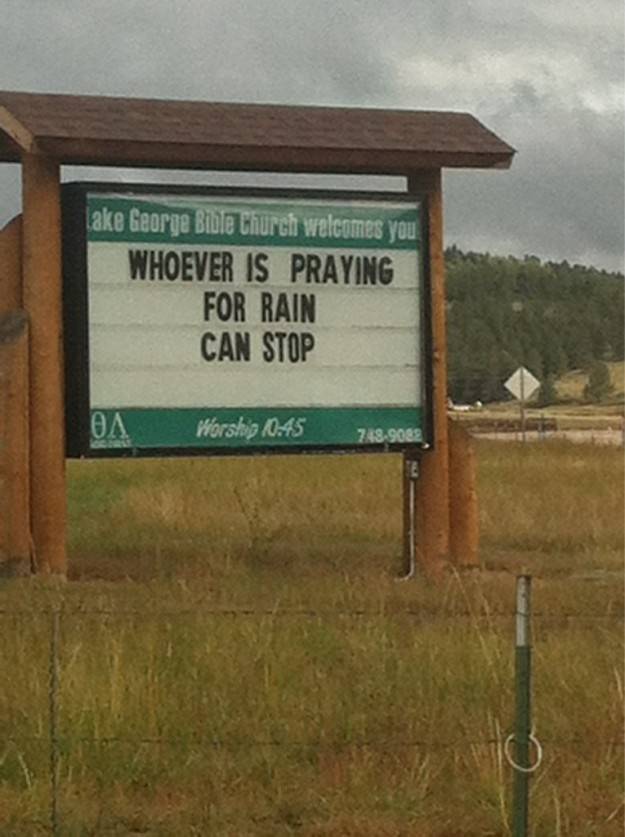 via:
Buzzfeed
8. I'm pretty sure most of us have admitted this.
The rest are in denial.
via:
Buzzfeed
9. This is either in tornado valley or near the ocean.
When mother nature goes crazy some businesses need a simple way to communicate with customers.
via:
Buzzfeed
10. This really makes me curious.
I mean, who the heck is she running against?
via:
Buzzfeed
11. Agreed.
In fact there is probably something wrong with you if you don't agree. Mosquitoes are evil.
via:
Buzzfeed