11 Mind Blowing Tweets From an Astronaut in Outerspace
Twitter is the place to go for a wide variety of information and content in today's quickly changing world. From photos to news updates and entire debates, Twitter has something for everyone. One could easily spend hours lost on the social website reading stories and laughing at one line jokes. Incredibly, one Twitter user raised the bar to astronomical heights, literally. 
Astronaut Reid Wiseman tweeted to half a million followers straight from the International Space Station back in 2014 but today the images are still guaranteed to both inspire you and take your breath away. What a phenomenal gift he's given us by sharing his experiences because in our lifetime it is unlikely we would have seen such unbelievable sights with our own eyes otherwise.
1. Ocean Currents
I never would have imagined a sight like this!
via:
Boredpanda
2. Aurora Borealis
Some people spend their lives dreaming of seeing this from the Earth, Reid definitely took the dream to the next level by seeing it from space.
via:
Boredpanda
3. A breathtaking view.
Perspective is everything.
via:
Boredpanda
4. As if hurricanes weren't terrifying enough...
This view is unparalleled.
via:
Boredpanda
5. An astronaut's favorite view.
Mind blowing!
via:
Boredpanda
6. Cloud Mountains
Meanwhile I thought it was cool just to see clouds from an airplane...
via:
Boredpanda
7. To see the world like never before.
It's better than a satellite image.
via:
Boredpanda
8. Mother Nature's scar
The world is full of natural art.
via:
Boredpanda
9. An unreal view
It's so beautiful that it is almost unreal.
via:
Boredpanda
10. An envious view
I am so jealous of this view!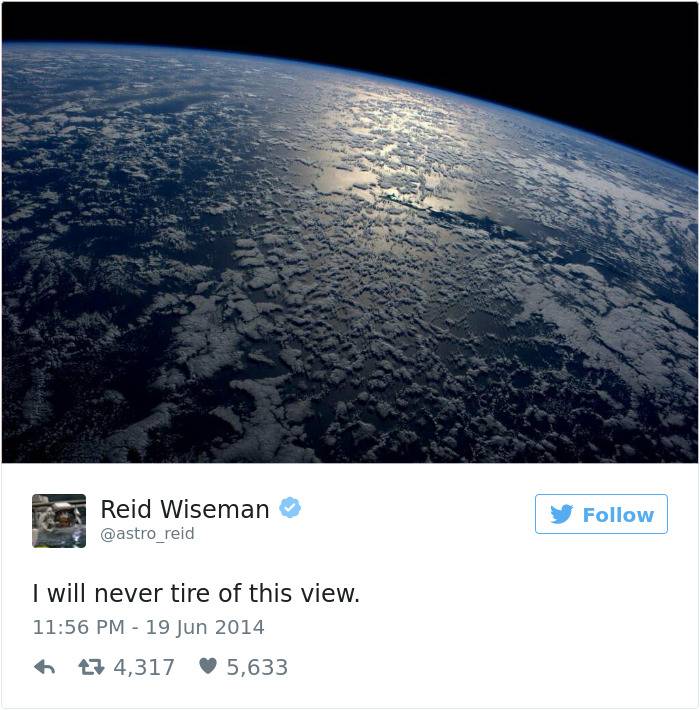 via:
Boredpanda
11. A spiderweb?
No, a city. I am blown away.
via:
Boredpanda