12 Street Murals That Are Sure to Blow Your Mind
These days graffiti has taken on a culture of its own. On One hand, chances are you can't go anywhere without at least seeing tags nearby. On the other hand, the culture has brought us some absolutely incredible artists and pieces of art work that stop us in our tracks. 
All around the world street artists are taking opportunities (and even being hired) to turn boring slabs of bricks and concrete into breathtaking murals that captivate minds, warm your soul, and inspire your creativity.
Here are 12 murals around the world where urban streets became an artistic opportunity and we couldn't be luckier to be along for the ride.
1. "Our Lady of Grace"
By The A'shop crew sponsored by the City of Montreal and Prevention NDG
via:
Diply
2. Kobra
Eduardo Kobra's mural of Alfred Eisenstaedt's photo, V-J Day in Times Square.
via:
Diply
3. Mural by Millo
Herleen, Netherlands: the artist Millo is known for his "signature monochrome artwork" according to Street Art News.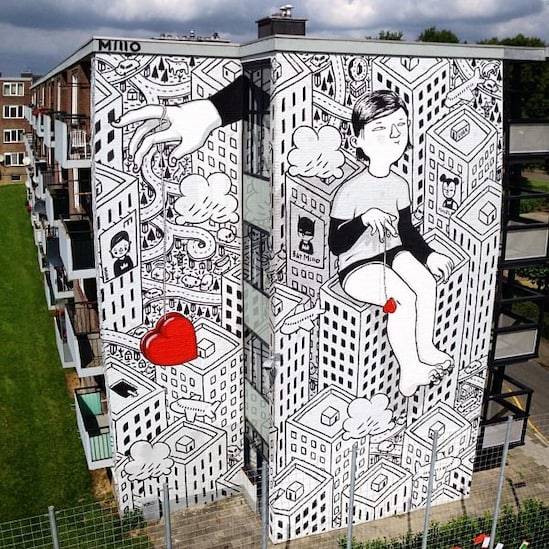 via:
Diply
4. A perfect fit for Miami.
Miami, Florida in the United States is a colorful city and therfore the perfect place for a colorful mural.
via:
Diply
5. Tahiti, French Polynesia
Street artists SETH & HTJ created this work of wonder.
via:
Diply
6. Ragusa, Italy
Artist Fintan Magee created this for a festival in Italy. How incredible!
via:
Diply
7. Tehran, Iran
Unkown artists turn a staircase into an elegant art piece with a vintage twist.
via:
Diply
8. Grafiti in Paris
By an artist known simply as JR.
via:
Diply
9. "Shinka"
'Shinka' (Japanese for evolution or progress), can be found in Adelaide, Australia and was created by an artist known as Fin DAC.
via:
Diply
10. Before and After
This incredible transformation can be seen in Athens, Greece by a Balinese street artist known as WD for Wild Drawing.
via:
Diply
11. Something a bit different.
Artist Nychos has a flair for the odd, as seen in this mural found in Aalborg, Denmark.
via:
Diply
12. Mural on Houston and the Bowery
This intricate mural can be found in New York City, New York and is sure to stop you in your tracks.
via:
Diply