14 Christmas Cards For the Black Sheep in Your Family
We all have at least one person in our family who would get a lot more enjoyment from an awkward and hilarious card than they ever would from a heartfelt card and Christmas time is no exception. If anything, this family member (or cherished friend) is usually the one to hand out the inappropriate or dark humor themed cards. That ends now, this is your year to one-up them! Take a look at this absolutely hilarious list and prepare to endlessly amuse them. There's a card here somewhere that's just right for that oddball you can't help but love.

1. The card of my dreams
Now that I've found it, there's no looking back. I need this.
via:
Etsy
2. The realist
We all know someone who would want this one.
via:
Etsy
3. Or Don't!
This is hilarious!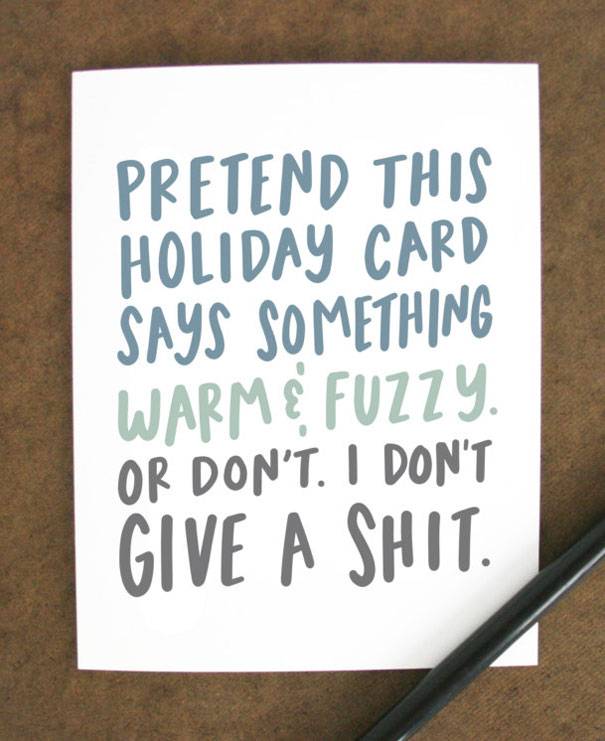 via:
Etsy
4. Sibling Fun
I love this one
via:
Etsy
5. Life just got real
This is what happens when you grow up.
via:
Etsy
6. Jolly
Or not
via:
Reddit
7. For the meme master in your family
Grumpy cat is always a winner
via:
Etsy
8. We all know someone
Someone who would love this of course
via:
Etsy
9. Not so enthusiastic
Rudolph the Red-Nosed NOPE
via:
Etsy
10. Here's a dose of the TRUTH
We all know this person.
via:
Etsy
11. Truth
Sometimes the truth is just not very magical
via:
Etsy
12. Art
I need a whole set of these for everyone. Thanks!
via:
Etsy
13. For my husband
This... is perfect.
via:
Etsy
14. The apathy is real
Especially when you're an adult looking at tangled Christmas lights.
via:
Etsy