14 of Your Favorite Comedy Movie Quotes Guaranteed to Make Your Day Better
I don't know about you but nothing truly perks me up and sets my mood right after a long, terrible day quite like watching my favorite comedies. The last 15 years have really brought along some of the funniest movies I think I'll ever see and over the last few years they've been making sequels that are helping us relive those hilarious moments. Either way, if today just isn't your day, all you need to do is make it through this list and I guarantee you'll be rolling with laughter and you'll have kissed your not-so-great day goodbye!

1. The Avengers
Thor is basically a gold mine of humor.
via:
Buzzfeed
2. Clue
Intentionally hilarious.
via:
Buzzfeed
3. Napoleon Dynamite
Pretty much the movie that made high school the best for me.
via:
Buzzfeed
4. Step Brothers
This movie is definitely in my top 3 favorite comedies of all time.
via:
Buzzfeed
5. Legally Blonde
Look at that matter of fact face! Legally Blonde is the favorite movie of women everywhere.
via:
Buzzfeed
6. Half Baked
I think everyone has dreamed at least once of doing this at a job.
via:
Buzzfeed
7. Elf
This hilarious movie is on everyone's Christmas must-watch list.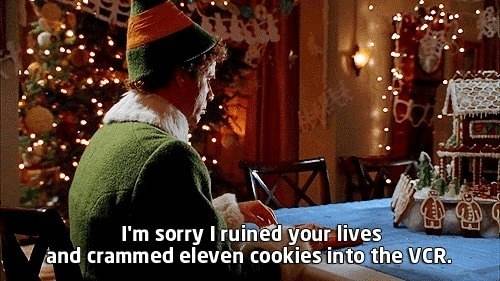 via:
Buzzfeed
8. The Incredibles
I don't think anyone ever stopped laughing at this.
via:
Buzzfeed
9. 500 Days of Summer
Literally, though.
via:
Buzzfeed
10. Scott Pilgrim Vs the World
Nope! You know you laughed.
via:
Buzzfeed
11. Airplane
I don't care how young you are, if you haven't seen Airplane, go watch it. It's hilarious.
via:
Buzzfeed
12. School of Rock
Really, anything Jack Black touches is pretty much gold on the scale of 0 to humor.
via:
Buzzfeed
13. Forrest Gump
This one never gets old.
via:
Buzzfeed
14. Zoolander
If you were at least a teenager when this came out, then this is probably one of your all time favorite comedies. It literally never gets old, and this may be the best joke from the movie.
via:
Buzzfeed