14 Ridiculous Christmas Sweaters You're Going to Want for Yourselves
The holidays are here and the big day is practically around the corner. There's all sorts of holiday parties most people go to from a "White Elephant Party" to the "Office Party" with your work pals but one of the year's favorites is the "Ugly Sweater Party." Every year we cram into a room with eggnog and Christmas carols to see who ends up in the BEST of the worst. Ugly Christmas sweaters have become a pinnacle of the season and a cherished holiday tradition.

The 14 sweaters featured here are some of the best we've ever seen, as far as the worst are concerned. Inappropriate and hilarious, these sweaters would definitely land the owner the winner of the party... of course as long as every single sweater wasn't at the party. I'm not sure who would win in that case.

1. When you're super excited about Christmas
This is the epitome of enthusiasm.
via:
Diply
2. Nutcracker?
Nutcracker.
via:
Diply
3. Oh no?
Oh yes.
via:
Diply
4. We all have that one aunt.
You know, the one who drinks way too much wine.
via:
Diply
5. Santa has moves
Apparently he knows how to dab.
via:
Diply
6. This grumpy cat?
So festive!
via:
Diply
7. You raise a fair point.
This is amazing.
via:
Diply
8. Who doesn't love Betty White?
I'd totally rock this every Christmas, party or not party.
via:
Diply
9. Well, I picked out mine.
I would love all the lap sits.
via:
Diply
10. I want one...
We all know someone who would love this sweater.
via:
Diply
11. For the quirky couple
This is the ideal way to rock a party.
via:
Diply
12. For the southern folks
Not everyone can handle sweaters for Christmas. It's too hot in Australia!
via:
Diply
13. Because we all have that one Uncle
You know, the one who loves potty humor?
via:
Diply
14. Ding, ding, ding. We have a winner.
I know I said it would be difficult to call a winner out of all 14 sweaters but I lied. This is clearly the winner.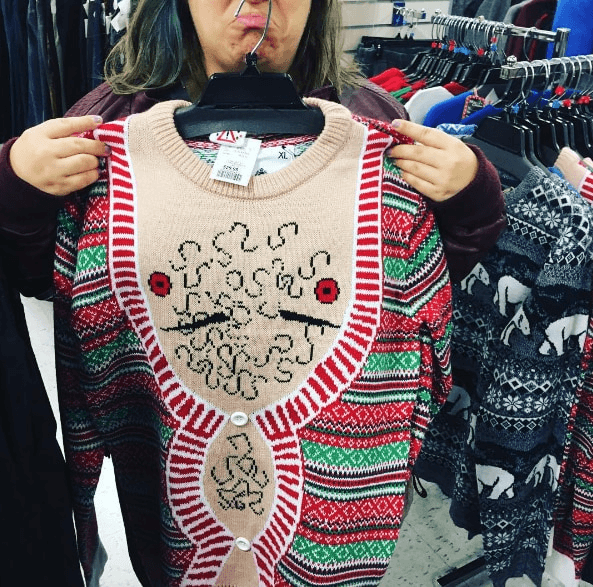 via:
Diply
I honestly love Christmas so much. I love the holidays; you know the whole dressing up, getting festive, seeing family that you haven't seen since last Christmas.. my second favorite festivity is Halloween. And when you
put together Halloween with Christmas
, it creates something spectacular!