14 Times This Pupper Inspired Cosplay Creativity
Semba, a Japanese woman, and her adorable dog, appropriately named Chihuahua-mametaro, have been single-handedly redefining budget cosplay. With nothing more than scissors, markers, and cardboard, Semba's creativity has expanded from simple animals to complex fictional characters from our favorite movies.
Semba has found most of her inspiration in cinema, anime, and manga but nothing seems off the table of opportunity for this unique pairing. It turns out, working with a dog partner is even easier than one might expect. Semba says all she has to do when she wants Chihuahua-mametaro to get into position she simply tells, "go home!" and he gets straight to business. She says her technique works like a charm!
"The main character is the non-moving dog, and my art skill is secondary," Semba proudly states.
1. So simple, so sweet.
Minimal effort for maximum outcome!
via:
Boredpanda
2. He's not lion around!
His mane is the envy of the pride. I'm wondering why toddlers aren't this easy.
via:
Boredpanda
3. Creativity at its Finest
Bonus points awarded for that adorable snout!
via:
Boredpanda
4. The best BB8 this year
This is what I call budget friendly Oscar worthy special effects!
via:
Boredpanda
5. That smile is worth a million bucks!
I think it's safe to say he is just as enthusiastic has Semba.
via:
Boredpanda
6. This is serious business.
All of those tentacles just add levels of cuteness.
via:
Boredpanda
7. Nothing to be Mad about
Immortan Joe like you've never seen him.
via:
Boredpanda
8. Channeling his inner Bambi
His face it too sweet!
via:
Boredpanda
9. When simple isnt simple enough....
Semba takes simple seriously.
via:
Boredpanda
10. Always patient and amused.
If only we could read his mind right now....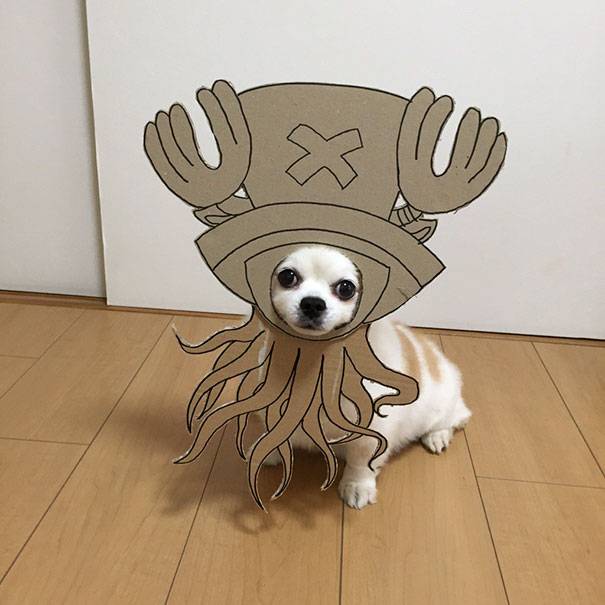 via:
Boredpanda
11. Ding, ding, ding!
This costume is definitely a winner.
via:
Boredpanda
12. Even an intricate design is possible.
Anything is "paws-able" with this creative duo.
via:
Boredpanda
13. Hello Kitty, goodbye dog membership.
Can any dog really sleep at night knowing they dressed as an adorable cat?
via:
Boredpanda
14. Paws up!
Take a moment to paws and breathe, I know you're laughing with me.
via:
Boredpanda