14 Useless Things That Serve No Purpose
People are just getting worse, each generation is so much less productive than the previous one, we got so lazy that now all we ever do is romanticize about the past and how better our forebears used to be. Fortunately, it's not all bad and some of us are actually decent with a hint of excellence every now and then, but we really need to do something about the people that are just ruining everything, otherwise we are all doomed.
1. Crying in Spanish is so much more dramatic.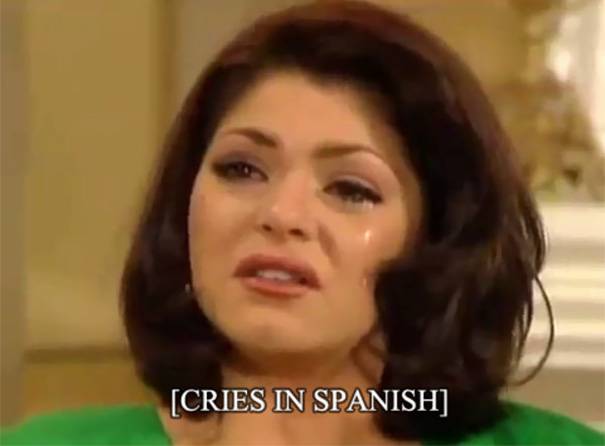 via:
Boredpanda
2. Maybe it was designed for skaters.
via:
Boredpanda
3. It'll work if you're brave enough.
via:
Boredpanda
4. They forgot to add "gluten free".
via:
Boredpanda
5. I wonder who just rang the bell.
via:
Boredpanda
6. To communicate with other fridges and enslave humans.
via:
Boredpanda
7. You don't say?
via:
Boredpanda
8. Maybe you can put your baby in there.
via:
Boredpanda
9. There's a secret portal on that wall.
via:
Boredpanda
10. Somehow this picture makes me sad.
via:
Boredpanda
11. Why waste our tax dollars on that?
via:
Boredpanda
12. A book...about Youtube videos...what the hell?
via:
Boredpanda
13. It's there, but we don't want people to actually use it.
via:
Boredpanda
14. Because f*ck you that's why.
via:
Boredpanda
A common time where you'd be likely to receive something particularly useless would be your wedding day. Unless you're organized and have written out a Gift Registry to let everyone know what they should be getting you, you're in for some useless and unwanted things. These would probably just be donatable, or maybe you're more likely to sell them on a local Facebook buy and sell group. Either way, it's important to know what you need when you move in together. Another super important thing to remember is that you need to know your partner! The in's and out's of their personality, what pushes their buttons, their good habits, and the really gnarly annoying ones. Otherwise, you might be unlucky in love and have some sad stories to tell. Unfortunately for these guys and girls, they revealed to us their
sad but honest confessions about the first year of marriage
.