15 of the Absolute Funniest Tweets About Food Of All Time
At this point in life I'm not sure I can imagine existence without Twitter. Twitter gives us so much: celebrity temper tantrums, breaking news, epic feuds, comedic gold, and juicy gossip. With the aid of trending topics and hashtags, we can even see 50 different interpretations of one concept and today our concept is food. Let's face it, there's not much in this world better than food in the first place so letting Twitter make jokes out of one of the very things we need to sustain human life, we had high expectations and man did Twitter users deliver! Here are the 15 funniest ways Twitter has posted about FOOD.

1. It's peanut butter, jelly time.
via:
Twitter
This is about as good as my cooking gets, too.
2. Pun-tastic
via:
Twitter
Nothing beats a meaty pun.
3. Cornbread?
via:
Twitter
Definitely bone app the teeth.
4. A different perspective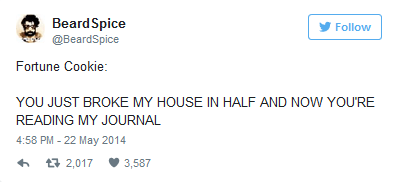 via:
Twitter
Poor fortune cookies.