16 Images of 30 Years Difference Through One Photographer's Lens
Chris Porsz is one hell of a dedicated photographer but that is just the tip of what makes him such an interesting artist. For almost 30 years beginning in the 1970's Porsz walked the streets of Petersburg, Cambridgeshire and used his camera to capture some incredibly iconic images of the times. 
Now over 30 years later he has gone out of his way to track down over 130 of his subjects to recreate his favorite photos from decades ago. One cannot imagine the dedication it took to put that much time and effort into hunting down strangers he met on the streets so long ago but he was determined and his efforts paid off. 
His recreations are incredible. They are vivid and tell a story of time. With no words, his images speak volumes. For those of you who desire to know the story that coincides with these incredible photos, Porsz has released a book with their stories and the side by side photos that show what a difference 30 years can make.
1. Seems like these two still have a child's spirit in them!
In fact, they seem even happier as adults.
via:
ChrisPorsz
2. I'm sure they still maintain a punk rock edge.
It is a little crazy how time changes us!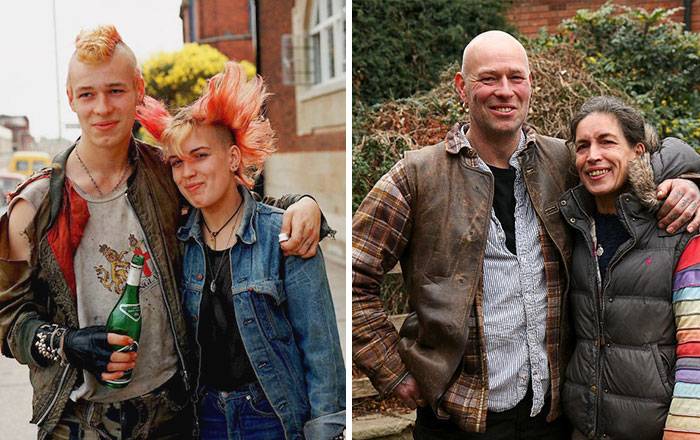 via:
ChrisPorsz
3. Love the little details.
It is really fascinating how everything from the people to the scenery changed at least a little.
via:
ChrisPorsz
4. This guy just got cooler.
While others so far seem to have grown up a bit this guy is definitely having more fun 30 years later.
via:
ChrisPorsz
5. Is this guy a Timelord?
He looks like he hasn't aged a year!
via:
ChrisPorsz
6. From ice cream to pasta?
He seems to have come a long way.
via:
ChrisPorsz
7. Tippie toes!
All these years and they still can't reach each other. Dang.
via:
ChrisPorsz
8. Friends forever
Time still brings genuine smiles to their faces!
via:
ChrisPorsz
9. Fun run
This one just kind of amused me. I love their smiles!
via:
ChrisPorsz
10. That is definitely a change of scenery!
I think their dog got cooler, too,
via:
ChrisPorsz
11. Stunning and vibrant colors.
3 elegant sisters.
via:
ChrisPorsz
12. This one is heartbreaking.
The image just feels so sad, I look forward to reading his story.
via:
ChrisPorsz
13. Either thry grew really tall...
Or that wall isn't as tall as it used to be. Either way, these smiles are fantastic!
via:
ChrisPorsz
14. She maintained her youthful spirit
I love this one!
via:
ChrisPorsz
15. The police officer and the child.
It is pretty cool they got to meet 30 years later.
via:
ChrisPorsz
16. Fast food is fast food.
30 years later it is still bringing a smile to their faces.
via:
ChrisPorsz