16 Relatable Wife Tweets That Are Just Too Funny
I have a feeling that marriage is low-key hilarious, and is basically two people who fell in love and now they're secretly hating each other and are still together just because they made a human and someone has to take care of that human and divorce is not going be good for it.
1. Someone has a dirty mind.
via:
Twitter
2. Wherever you are, just make sure you're doing something
via:
Twitter
3. The man of the house decides everything, or not
via:
Twitter
4. No he's my bestfriend
via:
Twitter
5. Maybe it will you never know
via:
Twitter
6. True words of wisdom
via:
Twitter
7. Men have bad eyesight
via:
Twitter
8. The illusion of having free will
via:
Twitter
9. Well that's unfair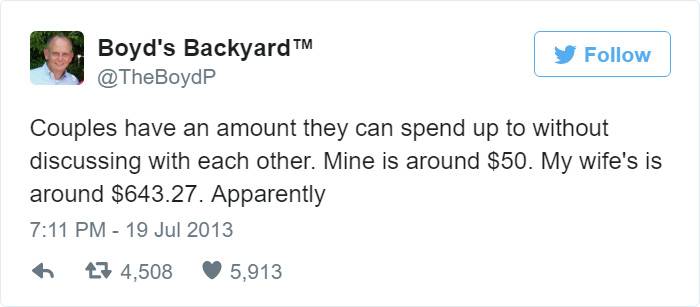 via:
Twitter
10. She's his official spokesperson
via:
Twitter
11. Life if full of surprises
via:
Twitter
12. Men never grow up
via:
Twitter
13. Easy there
via:
Twitter
14. Yes I Was, her least favorite words
via:
Twitter
15. This man has a death wish
via:
Twitter
16. Oh snap
via:
Twitter