17 Inappropriate Disney Tattoos to Ruin Your Childhood
Thanks to the Internet and the corrupted minds of both youth and adults we have inappropriate and downright naughty versions of just about everything under the sun and Disney is no exception. These people all took the childhood innocence of their favorite Disney movies and added some adult sprinkles and what we've ended up with are some seriously inappropriate tattoos!

1. True love?
If Snow White looked like this she'd probably be kissing a lot of jerks before she found her prince.
via:
ranker
2. Sultry Tinkerbell
She's going to sprinkle magic dust all over you.
via:
ranker
3. The call of the wild...
Pooh is a bear, I guess bears eat pigs.
via:
ranker
4. Uh...
Is this an invitation down her rabbit hole? This doesn't need to exist.
via:
ranker
5. Cinderella
I'll believe anything you say if you look at me that way.
via:
ranker
6. Right!
Because nothing says badass like Eeyore in the first place.
via:
ranker
7. Naughty or Nice?
Snow White... no.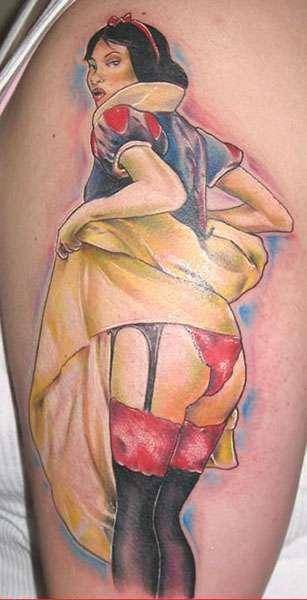 via:
ranker
8. Tinkerbell?!
I guess she has a vicious side.
via:
ranker
9. Sultry Little Mermaid
Ariel should definitely not be looking at us that way.
via:
ranker
10. When you lie, his nose grows.
I don't know whether to laugh or cry. Childhood ruined.
via:
ranker
11. Ariel is sending a message
Dead men tell no tales, don't cross her.
via:
ranker
12. Mouseketeers
Mickey knows why they call her Minnie, I guess.
via:
ranker
13. Thighs talk
I didn't even know this was possible.
via:
ranker
14. The wonderful thing about Tigger:
Is that normally he's not a thug.
via:
ranker
15. Snow White
She'll be the fairest of them all for eternity.
via:
ranker
16. Tinkerbell gets depressed
And then apparently she drinks.
via:
ranker
17. Number one Disney fantasy?
Apparently it's a scandalous Snow White.
via:
ranker