Apple's Best iPhone Photos of 2017 Will Blow Your Mind
It seems like it wasn't that long ago that the only way to take a jaw-dropping photo was to go to school to become a world-class, educated photographer and spend who-knows-how-much money on a heck of a lot of equipment and a few cameras. Well, the past is in the past and the technology-obsessed society we live in today has made one thing clear: you can take some damn fine photos on your phone. 
Apple has not been shy about being on the forefront of technology and they've made quite the name for themselves and their cameras have a pretty solid reputation for taking some amazing photographs. In fact, the iPhone has gotten to the point of taking such great photographs that there is an annual contest to determine the BEST in the WORLD.
Participants submit their entries and come from 140 countries all over the world and the contest has various categories so there's plenty of winners to go around.
The grand-prize this year went to Brooklyn New York's Sebastiano Tomada, who took his award winning photograph on the iPhone 6s. 
This year's winners were recently announced and we seriously cannot contain our amazement.
Have a look at some of the best... of the best. And we DO mean best. These 16 photos are incredible!
1. Grand Prize Winner
New York's Sebastiano Tomada says: "Children roam the streets in Qayyarah near the fire and smoke billowing from oil wells, set ablaze by ISIS militants."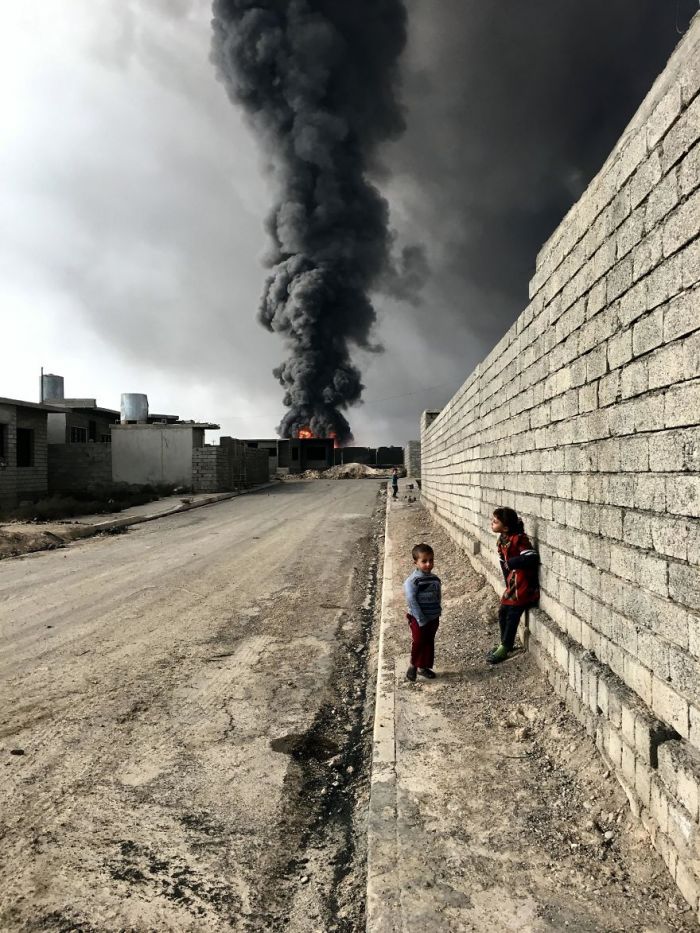 via:
Sebastiano Tomada
2. 1st Place Winner for the Category: People
Israel's Dina Alfasi says: "I shoot mostly street scenes and portraits, trying to capture intimate moments. Every day I get to work by train and bus. For two hours every day, I'm in a place with different people. At first, to pass the time, I was just observing them and trying to guess where they're going, what they are dealing with, or what their story may be. Along with this observation, I noticed intimate moments and so I started to take photos, and I was surprised with the result."
via:
Dina Alfasi
3. First Place: Photographer of the Year
Cork Ireland's Branda O Se said: "I shot this photo on an early morning photo walk around the docks in Jakarta in April 2016. These were the hands of a dock worker who was taking a break. I was struck by the texture created by the accumulated dirt on his hands."
via:
Branda O Se
4. 1st Place: Architecture
Taiwan's Paddy Chao said: "This photo was taken when I was traveling in India. Chand Baori consists of 3,500 narrow steps over 13 storeys. It extends approximately 30 meters into the ground making it one of the deepest and largest stepwells in India. I marveled these elegant stepwells and shadows, I immediately took out my camera and captured this beautiful scene before it was gone."
via:
Paddy Chao
5. 3rd Place: Portrait
Ukraine Photographer Vlad Vasylkevych said: "The title for this work is "Run with us, they said. It's just a run, they said," and it is from an annual bright event that combines sport and fun with a goal to bring the message of a healthy lifestyle to the city. The color run is a holiday in which there is a place for running under the splashes of holy paints, a music program, a drawing of prizes and charity for kids. The Color Run celebrates the individuality and uniqueness of every member of it."
via:
Vlad Vasylkevych
6. 2nd Place Winner: Landscape
Mendeleevo Russia's Sergey Pesterev said: "This photo was taken on January 30, 2016, on Olkhon Island, Lake Baikal, Russia. It was the first ice on the lake after heavy frosts below -30C, it is titled, Baikal Ice on Sunset."
via:
Sergey Pesterev
7. 3rd Place: Children
From the UK, Barry Mayes won 3rd Place in the Children category for this stunning photo.
via:
Barry Mayes
8. 1st Place: Trees
Ferney-Voltaire France's Magali Chesnel said: "Stormy winds have swept across Europe this winter, with Siberian temperatures transforming trees in wonderful icy show in Versoix, a little town close to Geneva, in Switzerland. After a conjunction of intense cold (-10 to -18 degrees Centigrade), with very strong winds, blowing at over 100 kmh, the waves from the Leman Lake got so harsh that they passed over the dikes and the droplets immediately froze everything they touched, including the trees. Braving the frozen ground, I took this photograph, early in the morning. I am constantly amazed with ways Nature can create beautiful designs and compositions. I really enjoy having the flexibility of stretching my wings, in order to explore all the moments that life has to offer to photography. When the moment is captured, causing an emotion is my ultimate objective."
via:
Magali Chesnel
9. 1st Place: Portrait
Brazil's Gabriel Riberio said: "This photo was taken in January of that year, my aunt came from Bahia to Campo Grande and my cousin was with me when I had the idea of doing a picture of him, we went to the nearest window and began to photograph using natural light. My main goal was to capture the depth that a look can achieve, especially when it comes to children. I used the Lightroom Mobile app along with Snapseed to get the final result."
via:
Gabriel Riberio
10. 2nd Place: Travel
United States, Joshua Sarinana said: "I took this image in the summer of 2016 in Cambridge, MA."
via:
Joshua Sarinana
11. 1st Place: Sunset
China's Kuanglong Zhang said: "The sunset and the Golden Temple in Amritsar add radiance and beauty to each other. The ripple in water seems to be formed by doves' flapping of wings. I think photography is derived from life, and only people who love life can take a picture of temperature."
via:
Kuanglong Zhang
12. 2nd Place: Animals
China's Dongrui Yu said: "This photo was taken on a cloudy morning by a pond. I liked the reflection in the water which was dark and smooth because of the cloudy sky."
via:
Dongrui Yu
13. 2nd Place: Trees
From the United States, Dyllan Wolf said: "This image was taken in Huntingtown, Maryland in May of 2016. After a long walk through the woods, photographing the nature around me, I stumbled upon this majesty and tried to capture it in a unique way that would showcase its enormity. The result was this worm's eye view of the trunk leading up to the canopy that has been several times compared to a python."
via:
Dyllan Wolf
14. 1st Place: Children
Poland's Syzmon Felkel won 1st place in the Children's Category for this photo and said: The photo titled "Children's curiosity" was taken in August 2015 in New York at the Time Square.
via:
Szymon Felkel
15. 2nd Place: Lifestyle
China's Yuming Guan said: "This picture was taken in the summer of 2015, in Oia, a beautiful small town of Santorini. Tourists from around the globe gathered at the cliff to see the breathtaking sunset that is known as one of the Greatest Views in the World. Everyone was amazed by the stunning moment with awe and applauds, that's when this local old man caught my attention. He was so concentrated and undisturbed, as if no crowd or view deserves his attention better than his own windowsill. I guess perhaps in his mind, the Greatest View in the World is HOME."
via:
Yuming Guan
16. 1st Place: The America I Know
From New York in the United States, Juan Carlos Castañeda said: "These pictures were taken on December 5th, 2016 at Standing Rock, North Dakota. That day the water protectors, the people standing up for the Sioux tribe were supposed to get evicted by the Morton County Sheriff's Department. Thousands of veterans came to the aid of those of us who were protesting. They told us that they had vowed to protect this country from all enemies, foreign and domestic. President Obama announced that the Dakota Access Pipeline had to be halted until an investigation was made. The veterans still marched on that afternoon and made sure to let everyone know that they were there helping protect Standing Rock. Mother Nature stepped in that day with a blizzard of 40 to 50 mph winds with temperatures of -30F. The height of the storm and the march was captured with the photo that was selected for first place. Everyone there stood until it was physically impossible to continue. Shortly after that picture was taken everyone had to go back to camp and the officers on the other side of the bridge had to leave as well. It was a great reminder of who truly was in charge."
via:
Juan Carlos Castañeda
Some people are simply amazing when you give them a camera (or, in this case, a camera phone) and they come up with the most creative and awe-inspiring photographs. If you enjoyed these, then you have to check out this extremely rare and historic never-before-seen photographs. You won't regret it!