Cheating Girlfriend Accidentally Tells Boyfriend About It Over Text
Cheating is already horrible from the get-go, but there's only one thing that could make it even worse than it already is, and that thing is getting busted doing it, or being dumb enough to accidentally inform your partner about your cheating plans.(h/t)
Jordan is the boyfriend is this story, he was unfortunate enough to have a horrible girlfriend that decided to cheat on him
Zoe, his girlfriend of two years had been cheating on him for an unspecified period of time, and he had no idea that it was happening.
via:
Twitter
You know what's worse than a cheater? A cheater's friend who gives her advice about cheating and makes sure she doesn't get caught. This text was obviously intended for Zoe's friend and fortunately, it ended up in Jordan's DMs.
To put it in a nutshell, Zoe planned to see her side piece while Jordan was supposed to be at work, but once she found out that he wasn't actually working that day she had to cancel on the guy.
via: Twentytwowords
via: Twentytwowords
It's never too late dude, use that money to treat yourself, you deserve it
via: Twentytwowords
And of course she decided to deny it and claimed that it was just a dream she had
via: Twentytwowords
His original tweet got 65,000 retweets and naturally the story went pretty viral
via: Twentytwowords
via: Twentytwowords
After the whole incident Jordan got a lot of support from random Twitter users:
@Slutphin @JordanMcnelly well, in all fairness at least you don't have to do any investigating. 😂

— Jess (@jesslawww) March 1, 2017
@JordanMcnelly me reading this text.... pic.twitter.com/aOS6utVe8d

— Erick Fernandez (@ErickFernandez) March 1, 2017
@JordanMcnelly @ Zoe pic.twitter.com/WX7jft4P0s

— #cashcarti 🥀 (@karimtbe) March 1, 2017
A random girl named Zoe decided to tweet in support of Jordan and people confused her for Jordan's cheating ex-girlfriend. 
I CANT STOP LAUGHING BC THESE PPL THINK IM THE ZOE FROM MY LAST RT pic.twitter.com/VRlmpRt8sq

— Z (@zfriedel78) March 1, 2017
@zfriedel78 I CANT😂😂😭😂😂 pic.twitter.com/K63T8XHtHR

— Z (@zfriedel78) March 1, 2017
After that, Jordan felt like he had to step in and clarify the whole situation adding that his ex doesn't even have a Twitter account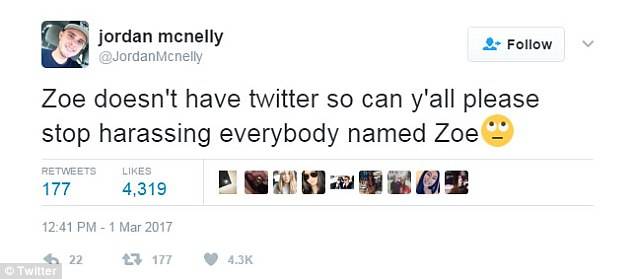 via: Twitter