Photos That Remind Us Just How Real The Friend-Zone Is
There's a great-debate about the "Friend-Zone." I mean, if someone doesn't want to date you, they're not going to date you but that doesn't mean the crush goes away and that doesn't mean they aren't going to stop hoping and dreaming (and maybe even praying) that someday all that niceness and friendship pays out in the end and their hopeless love interest will see the light.
Unfortunately, in the meantime it can be just a teensy bit embarrassing when the public realizes just how wrapped up someone is in a love they'll likely never have and that's where the Internet steps in to screenshot those humiliating memories for the rest of us to chuckle at. 
Seriously, the facial expressions and conversations you're about to see are at the very least a little bit cringe-worthy and at the most: hilarious.
1. This is about as blatant as it gets.
It's hash-tagged. That's permanent.
via:
22 Words
2. 4AM Broski.
Broski. BROSKI. That's all that needs to be said.
via:
22 Words
3. That's just cruel.
She really led up to a monumental moment. Crash-and-BURN.
via:
22 Words
4. Fact:
The more times you said "friend" the more cemented in reality it is.
via:
22 Words
5. Thanks!
At least she admits it.
via:
22 Words
6. "Back Up Valentine."
What a prestigious role.
via:
22 Words
7. Let's all shake our heads now.
If you're going to be blatantly friend-zoned you should consider discontinuing that excess spoiling, honestly.
via:
22 Words
8. Do you think they're friends?
I think they're friends.
via:
22 Words
9. Triple Friend-Zoned?
Or maybe he friend-zoned THEM. The world may never know but they're all really good friends.
via:
22 Words
10. The subtle message can be translated to:
"Don't let me hanging all over this dude hang you up, we're friends so please hit on me."
via:
22 Words
11. He snapped.
He's had enough.
via:
22 Words
12. Someone is confused.
Mostly likely over what possession means, but... yeah.
via:
22 Words
13. Crushed Dreams.
That's never how someone wants the long-anticipated kiss to go. Pro-tip: next time ask first, dude, seriously.
via:
22 Words
14. He's amazing!
For someone else.
via:
22 Words
15. What
It was over before it began, I guess.
via:
22 Words
16. That's a whole lot of...
Bestie love.
via:
22 Words
17. Good guy, Anthony.
He's good enough for selfies but he's not boyfriend material.
via:
22 Words
18. She's super blunt.
Yet she's the one that winces. Amazing!
via:
22 Words
19. At least we can say he tried.
He tried so hard.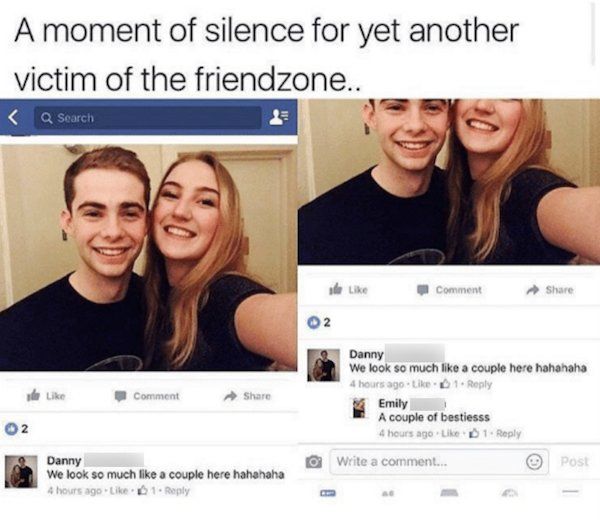 via:
22 Words
20. But first...
He's clearly dreaming of a life they'll never share together while she does her make-up, presumably for a date she's about to go on with another dude.
via:
22 Words
Some people are so deep in the friend zone that they have actually met their friends' parents in there, too. Sorry bro, no hope.