15 Horrifying Vintage Halloween Costumes
Today's kids frolic around neighborhoods every Halloween dressed as their favorite superheroes and Disney princesses, pumpkins and monkeys, or kitties and ghosts.
Kids of the past, however, had a much more horrifying Halloween experience and surely that is where the idea that Halloween is a time to be terrified came from. It may be forgotten today in a sea of candy and playful banter but just a glimpse at these 15 Vintage Halloween costumes will remind you what horror really is. 
You may also find yourself thinking, as you stare horrified at these children's costumes, that if one ever showed up on your dark doorstep that you would be more likely to put them off the deck than to plop a tootsie roll in their bag. 
1. The good kids.
They're terrifying!
via:
Imgur
2. Hello, darling.
No thanks.
via:
Tumblr
3. Hands up!
These kids will scare the socks off ya.
via:
Imgur
4. Welcome to the neighborhood...
I don't recommend sticking around.
via:
Imgur
5. Mommy Dearest
Seriously, have we mentioned the nightmares yet? This is what mine are made of.
via:
Blogspot
6. Eye See You
This is both amusing and creepy.
via:
Imgur
7. True Love
It's rat-tastic.
via:
Imgur
8. Trick or Treat
Hello darkness, my old friend.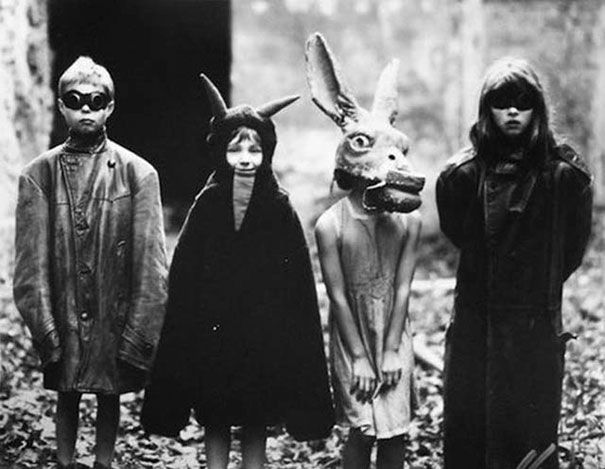 via:
Imgur
9. Oink you very much.
The doctor will see you now. If you aren't inclined to claw your eyes out, first.
via:
Imgur
10. My little family.
Of horror.
via:
Imgur
11. Burn Baby, Burn.
Mickey Mouse Club meets Hell?
via:
Imgur
12. My Precious Toddler
Seriously, this is one of those kids you would accidentally punt off your front porch.
via:
vintage.es
13. Nope.
No better word to sum this up other than NOPE.
via:
Tumblr
14. Mommy.
Quite frankly, if this isn't one of the creepiest things you've ever seen then I don't want to know what your nightmares are like.
via:
Imgur
15. The Funny Farm
Where dreams die and come back to haunt you.
via:
themetapicture
If you're reading this at night, I bet you won't be going to sleep anytime soon, amirite?! In any case, check out these creepy short horror films which will keep you up for days.