People With Super Clever Hacks To Get Away With Mischief
Sometimes you just want to reap the benefits without putting in the work. You're not the only one, trust me. I'm pretty sure everyone experiences that desire at least once in life (though I'm sure many more times than once, right?) 
So what does one do when they want to just go straight to the rewards? Get creative, of course! Find a way to give the illusion you're doing what you're supposed to or what you need to so that you can go straight to the good times.
Then all you need to do is photograph it so that you can share it with the Internet and everyone can learn from your tricky wisdom and get away with the same nonsense.
Here's a shout out to all the creative minds behind these photos, let us know which ones you're going to try out in your life! 
1. Don't let cameras get in the way of your good time.
It just takes one well-printed photo in the right spot to enjoy your day without Big Brother.
via:
Reddit
2. Sometimes you just need cuddles.
And then all you need is the perfect place to hide your cuddle buddy.
via:
Instagram
3. Dogs have life-hacks, too!
This is actually a very smart dog. Good doggo, you earned that slice of pizza.
via:
Reddit
4. Sneak in the Snacks
Well, I suppose if what you want is watermelon at the movie theater this is the perfect solution to that conundrum.
via:
Mashable
5. Delicious Snack
For free, too! Panera called ya out though, bud.
via:
Twitter
6. Brilliant.
People have been faking birthdays for the same reason for decades, why not fake an engagement?!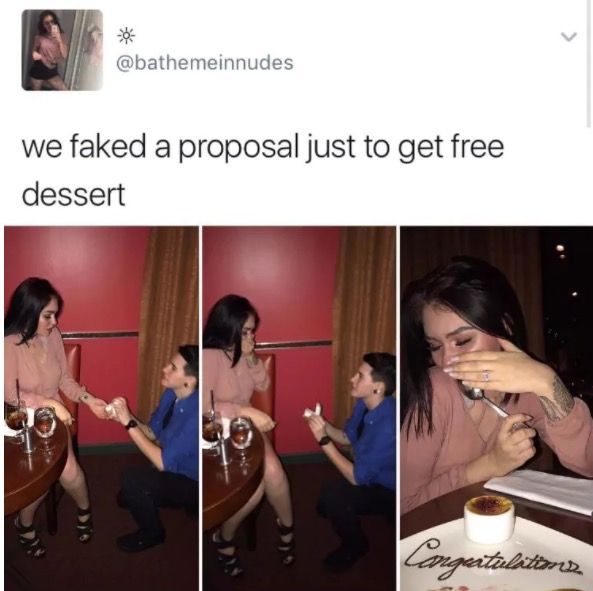 via:
Instagram
7. Who knew?
There IS a way to make money off of Tinder. Tantalizing.
via:
Tenor
8. Tags!
To be fair, it had the tags on it so it looked totally untouched. That was clever of the person getting their full value back for something they spent nearly 2 decades not wearing.
via:
Me
9. Professor After Hours
Look a little closer and you'll see it.
via:
Reddit
10. Professional
Uh, I suppose until they try to hire her and all she has is a coffee mug.
via:
Instagram
11. Cheaters never win.
Except when it comes to pizza.
via:
Twitter
12. There's always somewhere
A little spot, a little chance. The perfect crime.
via:
Instagram
13. Just a little snip.
Sure, just cut off your hair to get away with mischief. Impressive.
via:
Twitter
14. Dedicated.
Here's how to get that much-needed day off without anyone knowing any better. Nice.
via:
Reddit
Hacks might be able to help you in some situations involving mischief, but if you're downright terrible like this mother, there's no helping you.