21 Things None of Us Can Ignore About The Stranger Things Season 2 Trailer
The sci-fi, horror series exclusive to Netflix launched last summer and immediately sucked audiences in. It's creepy, it's interesting, it's a constant mind-puzzle... it's pretty much everything a fan of this genre could want in a TV series with the added benefit of Netflix letting us instantly binge on an entire season the day it releases. With a 1980's Midwestern setting, it's easy for anyone to get sucked into what feels like a familiar environment that isn't portrayed often enough but is always a phenomenal setting for sci-fi and horror. 
The season 2 trailer finally launched and we are all foaming at the mouth with excitement and because of our enthusiasm, we may have missed like tons of little details that will only enhance our season 2 experience. So after some meticulous thought, we've found the ones you likely missed and need to have pointed out because let's face it: this is something we need to prepare for. 
Beware, if you haven't seen Season One then you may want to catch up before reading this. Season One spoilers are in this article! 
1. Right off the bat!
In the very first portion of the trailer we get our first "WHAT THE WHAT" moment. At the end of the first season we know that the four boys reunited but right here we see only three boys ride up. Okay, um, what happened to the fourth? Did he get sent to the Upside down? I need to know. We need to know!
via:
Netflix
2. All alone
When Will ends up completely alone in the arcade we are all like really dying to know what the heck is going on. Main question: Is he stuck in some sort of ...in between existence? No clue.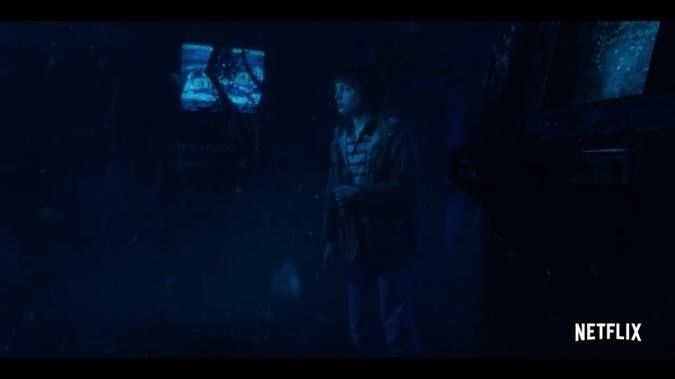 via:
Netflix
3. Glimpse
A glimpse outside shows what appears to be the normal world swapped with the upside down world. Um... creepy! What's up with this seemingly innocent arcade....?
via:
Netflix
4. Yeah, Science!
The boys are total geeks but we don't think that the upfront and center view of the periodic table of elements on Dustin's shirt is a coincidence. Perhaps since we last saw them the gang has been brushing up on their science?
via:
Netflix
5. Not happy.
When Mikey comes out to see what Will is up to, he's not having this nonsense. They were so happy to have their friend back but... something here says "I'm super annoyed with you."
via:
Netflix
6. Mom checks out
A brief scene appears to show Will's mom leaving town.
via:
Netflix
7. Dragon's Lair Logo
The trailer makes a point of repeatedly showing the boys playing The Dragon's Lair video game (and hey, no surprises that these guys love their video games, right?) What really has our goat though is how ominous the decoration around the game's logo is. We are anticipated some twists.
via:
Netflix
8. Distracted
Something distracts Will while playing the game and our curiosity is super high for this. Not to mention a brief glimpse at up-and-coming young actor Matty Cardarople (known for his role in Jurassic World,) has us at least a little pumped for character development.
via:
Netflix
9. Have a seat.
This empty spot where Will used to sit is ominous.
via:
Netflix
10. It's all in the Eyes
This up close look into Will's eyes definitely has us flipping out. Something ominous and scary seems to be reflecting in them.
via:
Netflix
11. Spider thingy?
Is this what Will saw? BYE. My nightmares are real.
via:
Netflix
12. Missed connection.
Nancy and Steve are definitely at odds. We are eager to find out what caused the divide.
via:
Netflix
13. Joyce is cracking.
This shouldn't surprise anyone, seriously, but now she has to watch her son go through a world of tests. And for what?
via:
Netflix
14. WHO
Who are these mysterious men monitoring Will's vitals? WHO?
via:
Netflix
15. Happy Halloween....or not.
Transporting us back to a normal world our glimpse of Halloween is just... more ominous of course. Worlds colliding?
via:
Netflix
16. 1984
We knew the show took place in the 80's but now we have a year!
via:
Netflix
17. Ghostbusters... and Who?
Is this a younger Will transported from the past? And why are they dressed as the Ghostbusters? We need to know.
via:
Netflix
18. Officer.
This first glimpse at Officer Hopper just says one thing: "I've seen some sh*t."
via:
Netflix
19. The Girl
Who is this mysterious girl that no one can stop staring at?
via:
Netflix
20. Yearly connections
Okay a few things, we know the year is suppoesd to be 1984 and that's when Ghostbusters came out so that kind of explains the costumes earlier but now it appears the boys have caught a ghost in their toy. Except that toy shouldn't exist until 1986. Are we looking at time travel?
via:
Netflix
21. ELEVEN
OKAY THIS IS IT, THIS IS WHY WE ARE ALL TUNING IN. We thought Eleven was dead but this clearly appear to be a very much not dead Eleven and we need to know all the juicy details.
via:
Netflix
Okay but this walk through just doesn't emphasize it all so have a look for yourself. this is all the things in life you  need to see right now:
Anticipating the Netflix TV show Stranger Things is something many of us are doing right now! If you're into trailers, have a look at this terrifying trailer for the new Ring film.