The 14 Most Embarrassing Text Fails Ever
We've all been there: you send a deeply personal text to the wrong person. Whether you were tired or your finger just touched down in a slightly lower spot than you intended and you just didn't think before typing out your text and hitting send, it's always embarrassing. Comedian and Nighttime Talk-show host, Jimmy Fallon has instigated some of the funniest Twitter challenges we've ever seen lately and his current hit #TextFail is no exception. If you've ever been the victim of your own oopsie, you'll surely find comfort in this hilarious list of fellow text fails.

1. Oh my!
That would definitely be one interesting text to receive!
via:
Twitter
2. One letter makes a huge difference
Also, this one made me laugh hysterically.
via:
Twitter
3. A different kind of failure.
I hope everyone sent him a picture of their poop later.
via:
Twitter
4. Hot cocoa will never be the same
This joke would never, ever die if it was between my friends and I.
via:
Twitter
5. Uh, thanks.
At least the boss was graceful about it!
via:
Twitter
6. Freak!
We've all been there. However, I'm inclined to think this would have been even funnier if the buddy had played along!
via:
Twitter
7. Maybe your phone knew something you didn't?
Insert giggles here.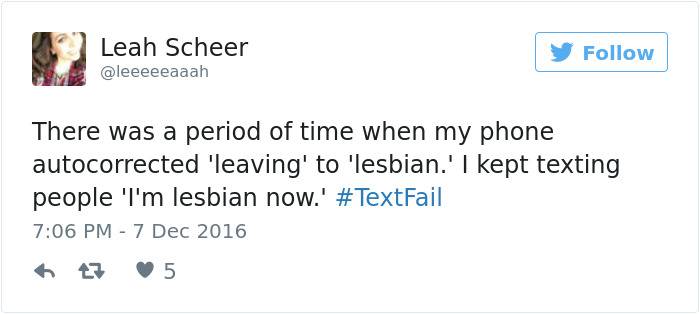 via:
Twitter
8. Wow, and we thought minimum wage was bad.
How awkward must the reply have been?
via:
Twitter
9. Oh no...
That must have been fun to explain
via:
Twitter
10. Introducing:
The fastest way to never get a reply, ever again.
via:
Twitter
11. I see where you went wrong
"Okaysies" in the first place was a mistake.
via:
Twitter
12. Friendship over.
Rude
via:
Twitter
13. Yikes
Auto correct did you no favors.
via:
Twitter
14. How to get shunned at work 101:
This is a great place to start
via:
Twitter