The 16 Best Photos to Sum Up How Awesome Obama Was
Barrack Obama was hands down the best modern President the United States has had. He had a charming personality and it exuded in everything that he did. He was a smooth guy, a cool dude, and a gracious man. The White House has an official chief photographer and his name is Pete Souza. He's been working with the government since the Reagan era but he is predominantly known for his coverage of President Obama and his administration. Souza left his position during George H.W. Bush's administration and a few years later began covering the once young senator from Illinois.

Souza has barely left the side of Barrack Obama since January of 2009 and his work has shown us a side that virtually no one else near Obama's administration has had access to. Souza told CNN that he estimated by the time Obama's time in the White House ended he will have taken over 2 million photos. Recently he submitted to the world his absolute favorites and man, they are seriously astonishing and amazing photos. I picked out the best of the best to highlight what an incredible man Obama is, not just as the leader of the free world, but as an individual with a unique personality and a gift for leadership.
If anything, these images are loud proof that Obama will truly be missed.

1. Shining Personality
via:
Hdnux
Obama has a gift for showing multiple sides. A serious and composed side and a more fun and free spirited side.
2. Halloween at the White House
via:
Hdnux
President and Mrs Obama gave out candy to some trick or treaters on the south lawn of the White House. This photo of their reaction to a child in a Pope costume is priceless.
3. Obama and Biden
via:
Hdnux
While the dynamic duo has trended over memes lately, this iconic photograph was taken shortly before Biden announced he would not be running for President himself. Souza later remarked that he didn't know what the decision would end up being but that he felt it was important to document either way.
4. Important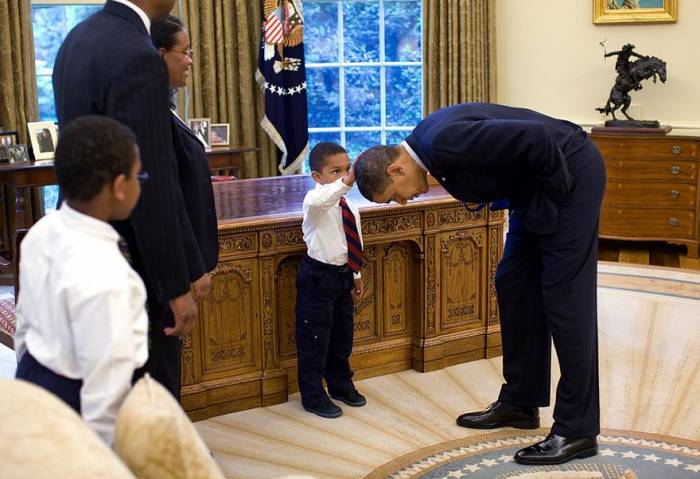 via:
Imgur
This little boy wanted to touch the President's hair, because it was just like his. It was a powerful statement for little black children everywhere to see a black man as President of the United States. While many children of color grow up feeling marginalized and disregarded, being face to face with the most powerful man in the country was inspiring and a flooring, grounding moment.