The 16 Best Photos to Sum Up How Awesome Obama Was
Barrack Obama was hands down the best modern President the United States has had. He had a charming personality and it exuded in everything that he did. He was a smooth guy, a cool dude, and a gracious man. The White House has an official chief photographer and his name is Pete Souza. He's been working with the government since the Reagan era but he is predominantly known for his coverage of President Obama and his administration. Souza left his position during George H.W. Bush's administration and a few years later began covering the once young senator from Illinois.

Souza has barely left the side of Barrack Obama since January of 2009 and his work has shown us a side that virtually no one else near Obama's administration has had access to. Souza told CNN that he estimated by the time Obama's time in the White House ended he will have taken over 2 million photos. Recently he submitted to the world his absolute favorites and man, they are seriously astonishing and amazing photos. I picked out the best of the best to highlight what an incredible man Obama is, not just as the leader of the free world, but as an individual with a unique personality and a gift for leadership.
If anything, these images are loud proof that Obama will truly be missed.

1. Shining Personality
Obama has a gift for showing multiple sides. A serious and composed side and a more fun and free spirited side.
via:
Hdnux
2. Halloween at the White House
President and Mrs Obama gave out candy to some trick or treaters on the south lawn of the White House. This photo of their reaction to a child in a Pope costume is priceless.
via:
Hdnux
3. Obama and Biden
While the dynamic duo has trended over memes lately, this iconic photograph was taken shortly before Biden announced he would not be running for President himself. Souza later remarked that he didn't know what the decision would end up being but that he felt it was important to document either way.
via:
Hdnux
4. Important
This little boy wanted to touch the President's hair, because it was just like his. It was a powerful statement for little black children everywhere to see a black man as President of the United States. While many children of color grow up feeling marginalized and disregarded, being face to face with the most powerful man in the country was inspiring and a flooring, grounding moment.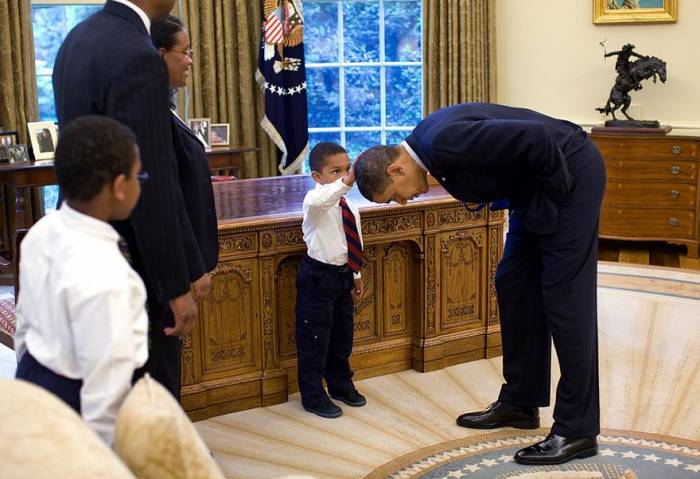 via:
Imgur
5. Jerry comes knocking
Jerry Seinfeld stopped by while filming a segment for his series "Comedians in Cars Getting Coffee" and this hilarious image just further emphasizes that Obama was a laid back dude at the end of the day.
via:
Hdnux
6. Koko Head Trail
A fit and active president, Obama hiked the trail that boasts an impressive 1,048 wooden steps, which climb more than 1,200 feet up the crater's ridge.
via:
Hdnux
7. The fun side of the Obamas
The President is seen here pretending to ride a bicycle while the Marine Band plays the theme song for E.T. the movie. You definitely cannot say that this man wasn't a fun guy.
via:
Hdnux
8. He was always good with kids
Ella Rhodes, daughter of Deputy of National Security Advisor Ben Rhodes, lifted playfully into the air in an elephant costume. My favorite pictures of Obama are the ones where he is engaging with children. You can tell he is a great father.
via:
Hdnux
9. Celebrate Pride
Even though it was a Supreme Court Ruling, surely one of the greatest things to come from his time in office was the ruling on Same Sex Marriage. Marriage Equality was celebrated in multiple opportunities by the White House and that is definitely something to be proud of.
via:
Hdnux
10. Meet the Pope
Both the Obama and the Biden Family were ready and excited to greet the Pope has he landed in the USA for the first time.
via:
Hdnux
11. Happy Birthday
Obama is seen here on his birthday listening to a prayer by several pastors.
via:
Hdnux
12. Waving to supporters in the inagural parade
Souza says that when he asked the President if he could ride along in the limousine during the parade that Obama responded by joking, "but Michelle and I were going to make out." These two are a shining example of a loving and lasting relationship filled with laughter.
via:
Hdnux
13. The classiest of women
Michelle and her daughters were photographed here at the Great Wall in China. Michelle will forever be known for her grace and style, but I hope the world remembers the love she had for her beautiful daughters as well.
via:
Hdnux
14. Superbowl 2009
It's always a pleasure to see the fun loving side of our President. Watching him enjoy the Superbowl, however lavish he may do so, just really shows how much of an American he really is.
via:
Hdnux
15. True love
The love these two share is one everyone can look up to. We should all be so lucky to know a love like this.
via:
Imgur
16. Love Won
What better example of the legacy Obama will leave behind than this incredible image?
via:
Imgur