The Shocking Sex-Ed Lie: You CAN Get Pregnant... While Pregnant
Sex-ed has become a standard in public education and begins as early as elementary school for most students. Of course, it's usually pretty age-appropriate. In fifth grade we got the basics down, boys and girls are different. Babies come from sex. Sanitary pads help manage a period. Lots of giggles.
As we grow older, sex-ed morphs quite a bit and ultimately over the few years we're learning about our bodies and where babies come from we learn a whole lot of other things. We were all calmed to know that we can't get pregnant from holding hands but were terrified to find out that technically, cooties are real. I mean, they're definitely not cute and have names like "Gonorrhea" that we never want to really hear about. (Also, whose idea was it to show us pictures?)
One thing I'm pretty sure almost all of us learned at some point in sex-ed was that a woman can't get pregnant if she's already pregnant. Sounds like it all adds up, right? Well, hold onto your socks because according to a recent report by The New York Times, it is possible to get pregnant while pregnant! What the what?!

I'm not sure a normal pee-test can help you determine double pregnancy.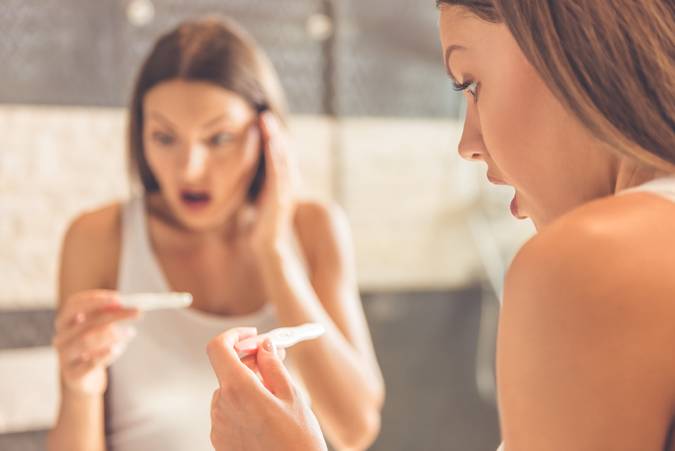 via:
Twentytwowords
Alright, hold up. If you're anything like me then right now you're dying to know more details on how (and why) this is possible.

It turns out this phenomenon is a condition called superfetation, and it's incredibly rare in humans. In fact, as far as we know only eleven cases have been reported to date. Ten of the eleven occurrences were reported in the European Journal of Obstetrics and Gynecology in 2008, the eleventh case happened to an Arkansas woman shortly after who became pregnant with a precious baby girl and then shortly after... she became pregnant yet again with a sweet baby boy. Can you imagine that shocker? Two weeks after she learned of her baby girl in 2009 she found out she was bonus pregnant with her son.

I'm pretty sure my only sense of comfort right now is knowing that the New York Times also made sure we all understand it IS incredible rare in humans and not to worry unless you're a cat. It's apparently pretty common in cats!

So... what the heck causes superfetation?!

Agreed.
via:
Paintermommy
Normally during pregnancy, a woman's body shuts the whole show down. Her body receives messages that there's a bun in that oven and her body stops trying to get pregnant! She stops producing eggs and her womb becomes an environment ideal for that baby that's already conceived and trying to keep that baby in!
However, for unknown reasons, occasionally the body throws it's hands in the air and lets the ovaries release a rogue egg and if the timing is right dad's super sperm will bust through the barrier and the two will meet and somehow, some unknown way, the fertilized egg will find its very own nesting spot in the womb and... voila! Bonus baby.

via:
Twentytwowords
So as rare as it is, that's what happens, double pregnancy, bonus baby... superfetation.
Of course if you think bonus babies sound stellar you should know that superfetation doesn't come without its risks. Most of the time, regardless of how far apart the conception times were (2 weeks, 6 weeks...) these babies are born at the same time and premature babies have increased risks such as jaundice, under-developed lungs, and low birth weights. In fact, every week a baby spends in the womb is of vital importance as they grow and develop from fat to brain health.

Let's play a game, how many heart beats do you hear??
via:
Twentytwowords
Thankfully, like in the case of the Arkansas woman, her babies were only 2 weeks apart in gestational age so the risks were not as extreme.
Whelp, ladies, if you're pregnant sounds like your best bet is to not trust the myths you learned in sex-ed. No hand holding, let alone anything else... we don't need bonus babies this year!