This Woman's Hilarious Complaint on Facebook Took Some Unexpected Turns
Social Media has provided new opportunities for consumers and businesses to interact and most notably that includes being able to issue complaints in a very public manner. Such was the case for Leila Jayne Daly when she wrote on the Facebook wall for the supermarket Sainsbury's after she found a WORM in her LETTUCE. A lot of companies seem to have a pretty generic response to complaints but Sainsbury's raised the bar when their employee, Ross, handled the situation with Leila in the most epic way imaginable. Not only was every part of their interaction amazing to read, but the unexpected turn it took left our jaws dropped and found us rolling with laughter.




1. It all began here...
We can understand being upset about finding a worm in your lettuce so it's not surprising that Leila took to Facebook to address her issues with the people in charge.
via:
Facebook
Phew! That was one heck of a complaint, but it didn't stop there.

2. Leila included the following photos
These were definitely necessary to dive the point home.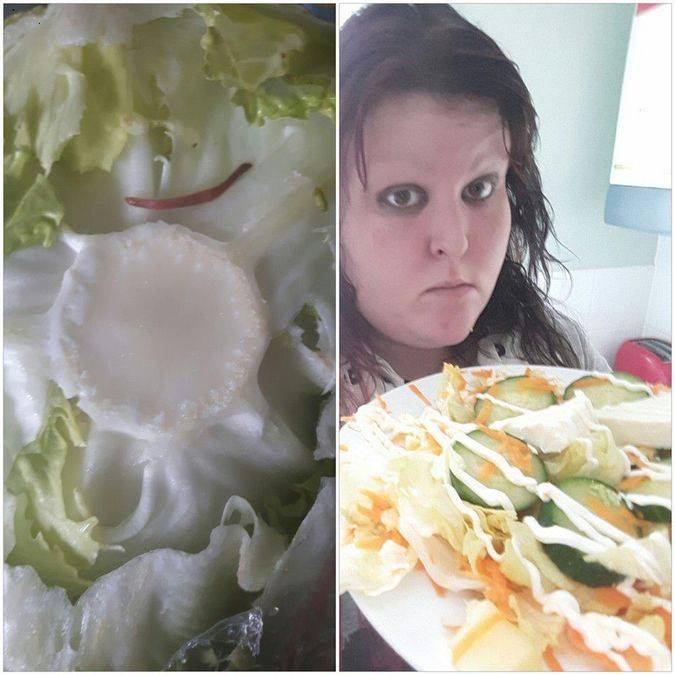 via:
Facebook
Enter Ross, perhaps the hero of the story.

Just a personal suggestion: Ross deserves a raise.

3. What a mouthful!
Ross is seriously a genius.
via:
Facebook
We didn't think it was possible after that epic response but indeed, the whole story got better when Leila promptly replied and began intense negotiations with Ross.

4. She's a tough cookie
She's definitely not messing around. She could professionally negotiate if "fat prostitute" and "salad maker" don't work out.
via:
Facebook
5. Wow, Ross is pretty good at this, too.
Ross may be just as good at negotiating as Leila...
via:
Facebook
Nothing really thrills me more that this conversation continued. I wasn't sure it could get any better but it did!

6. This is a good way to go
Leila seems pleased with the offer presented to her, and I don't blame her.
via:
Facebook
7. Custody battles
Hey, nobody wants to make a worm unhappy.
via:
Facebook
And here is how Ross became an Internet legend:

8. First, Leila agrees.
via:
Facebook
9. The fans rush in
This should come as no surprise, honestly.
via:
Facebook
10. Ross is suddenly a hero
And everyone wants a piece
via:
Facebook
Ross didn't provide a selfie (sad!) but a couple days later Leila did get something in the mail...

11. Everything about this is amazing
Seriously, I don't know what I love the most.
via:
Facebook
12. Leila knows what is up!
She appreciated Ross and made sure everyone got to see how and why he was so awesome.
via:
Facebook
13. And at long last...
Ross offers one final reply.
via:
Facebook
Well folks, this is how you do customer service. Leave a lasting impression that takes the entire Internet by storm!