Someone Call The Police, These 17 Pictures Of Siberian Huskies Are Guilty Of Being Too Adorable
What's not to love about Siberian Huskies? They are fun-loving, carefree dogs, and to top it all off; they are super cute too.
If you asked the owners of this breed what keeping them as pets is like, they would tell you there is no dull moment with these cute critters. Huskies never miss a chance to go on adventures with their humans.
Now you probably understand why this breed has won the hearts of many animal lovers. Even staunch supporters of cats over dogs stand no chance where Siberian Huskies are involved.
With one, you're certain of a loyal companion who will wear you out with fun. Ask around if you're doubting.
However, that's not all. Just one look at a Siberian Husky's eyes, and you'd be giving it all the treats you can find.
It sure helps that you almost can't go wrong when taking pictures of them, but that doesn't take anything away from their natural allure.
Because of this allure, we are certain that you will enjoy spending some time getting lost in the beauty of Siberian Huskies. And maybe we're overconfident, but we dare say that you won't only enjoy viewing these pictures, but they'll make your day.
But then again, it's not overconfidence when it's the truth.
1. Flirty much
We don't doubt that this dog scored some ladies with this impressively executed wink.
2. The stink eye
Uh-oh someone's in trouble.
3. The little ones tug at your heartstrings the hardest
You wanted to reach out for this little cutie, didn't you?
4. Undefeated cuddle champion
Siberian Huskies will always be the best cuddle buddies.
5. This dog's excitement is so contagious
We know the feeling, bud.
6. Smile! It's picture day
This dog was made for the camera.

7. A little ruff-housing never hurt anyone
These two are only trying to bond.
8. Siberian Plato
Who knows? He may be planning to save the world.
9. A little shopping cart fun
Who needs a car when you've got these?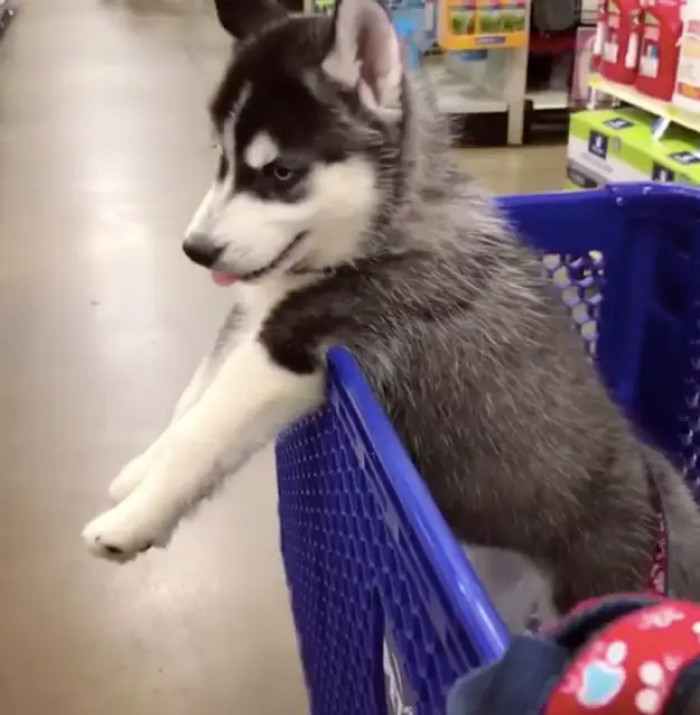 10. A good day to chill
Even when they are just chilling, Siberian Huskies still make you smile.
11. A tasty treat for a good dog
That's a good boy!
12. Wrestlemania is missing a participant
This stuffed toy doesn't stand a chance.
13. Chilling in the front seat
Let's go for a drive.
14. A different breed
This Husky with two different eye colors will melt your heart.
15. Too cool for school
This dog's way ahead of most people's leagues.
16. Grumpy the ol' cutie
Even when they are mad, they're cute.
17. All five are keepers
Why have one when you can have five adorable companions?
Did you enjoy staring at these adorable pictures of Siberian Huskies? We're sure you did!
If you weren't a fan of this breed, we hope we have been able to give you a taste of what you've been missing.
Let us know if this is enough to make you a Siberian Husky convert.