Redditor Refuses To Take Care Of New Family Dog After Getting Cut Out From Decision-Making
When a family decides to welcome a new four-legged member, it can be one of the most exciting things they experience. A dog's looks shouldn't usually matter but choosing a breed is still a significant aspect people pay extra attention to.
You need to see if you have the proper environment for the dog you will be adopting. If a dog doesn't feel comfortable in its own home, its behavior and mood might change.
The dog's size needs to be proportional to your home; otherwise, it can get into dangerous and life-threatening situations. Every dog owner needs to ensure their dog's safety by dog-proofing the environment their dog lives in.
A Redditor who goes by the username u/Throwaway12345667_ made a post on the r/AmItheA**hole subReddit where she explained how she refused to take care of their new family dog after getting excluded from any of the decisions regarding the adoption. The user's family called her an a-hole for refusing to fully take on that responsibility.
The user received a lot of interesting reactions to her post. Scroll down to check out the full Reddit post, and scroll a little further to read the comments from the original post.
Here's the original post by Reddit user u/Throwaway12345667_:
Op thinks she might potentially be the a-hole for the following reason:
Here's how the Reddit community reacted to u/Throwaway12345667_'s post:
What kind of logic is that?
If they think it's her job, they better start paying her for her services.
Life doesn't work like that at all.

If Op is pushed to take care of the dog, she should ask for compensation.
What you do for a living and your personal life are two different things.
They can help each other take care of the dog and don't need Op's help.
The whole family has to agree on what kind of breed they should adopt.
Op's family is still waiting to get the dog.
Op might get attached to the dog despite the circumstances.
"Bottom line - the dog is a living creature, and if you agreed to the general idea of getting a dog, you shouldn't let it suffer."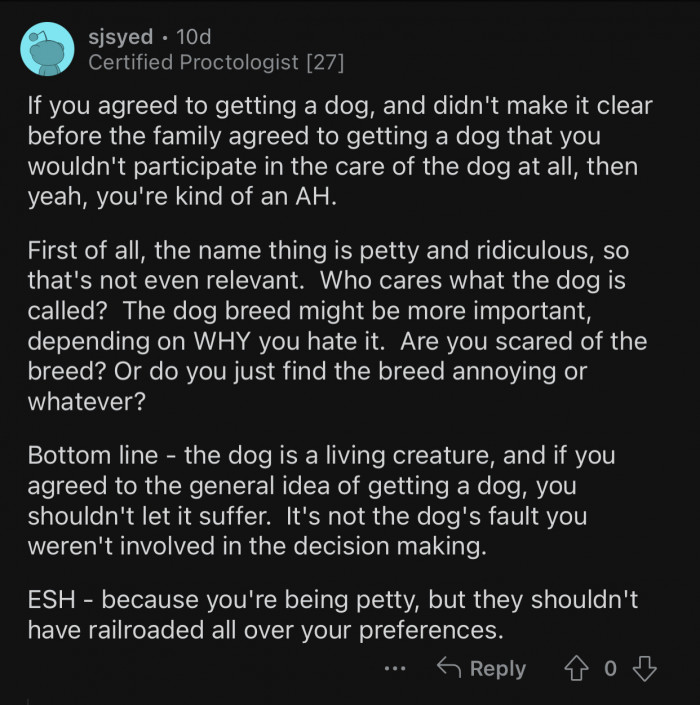 Op's family didn't want to listen to her warnings.
Op should not risk getting in trouble with her parents over it.
Op needs to have a serious discussion with her family about the dog.
It's a living being, and Op's feelings or preferences are irrelevant in this situation.
Op was excluded from the decision and should not have any of the responsibility.
Op can't just reject the dog's love because of her personal reasons.
Op will evidently not neglect the dog if it needs assistance.
Op is 16 and allowed to consider this a problem.
This is an interesting story, and it brings on several dilemmas. What should Op do?
It is hard to say. Op has every right to refuse to take any responsibilities since her family excluded her from the decision-making.
If you enjoyed reading this story, make sure to check out similar content on our platform.