25 Illustrations Resembling A Fantasy Storybook Is Outlining The Personalities Of Animals And Life's Mysteries
Dzmitryi Kashtalyan is a street artist and illustrator based in Belarus, and he makes detailed character illustrations that are exceptional and seem to be something from a fantasy. There is one of a bear riding a unicycle, and there's another of foxes in nice dresses.
Every one of the artist's dreamlike drawings brilliantly embodies animals in various imaginative situations. The artist hopes that his art will make the world a better place, and he wants people to glance around and think.
Each of his stunning textured drawings is made out of millions of tiny dots that are drawn by hand and barely recognizable fine lines. This permits Kashtalyan to accomplish a huge level of tonality and an astounding measure of detail.
While most of his drawings are mainly monochrome, others are shaded with care, which considerably adds more life to the scenarios. So many of Kashtalyan's works show the illustrator's ponderings about life, just like one of his artworks named "Far Side of the Moon."
The scene is so surreal as it shows a fox-like, cross-bred creature having a casual get-together, and that is Kashtalyan's own eccentric interpretation of his thought process about the things going on in the moon's mysterious hidden side. The artist says that no one knows for sure "what is happening on the far side of the moon and most probably we will not get the answer soon, so it is anyone's guess."
This is called the "Personality Formation"
And this is how the drawing goes
This Belarus-based illustrator has set out to make profoundly detailed illustrations of different characters, and they appear to be something that comes straight out of a dream. His illustrations are so surreal and they wonderfully personify animals in a wide range of imaginative scenes.
Each impressive stippled drawing is composed of millions of tiny hand-drawn dots and fine lines
The illustrator achieves an impressive level of tonality
And this is the final piece... Remarkable

There's another intriguing piece, named "Guessing On A Cabbage Head," where you can see an ape who looks wise and is wearing a human dress with an outdated powdered wig. The ape is thinking about the question, "Who are we and how did humans first appear on Earth?" and Kashtalyan admits that he often asks those questions to himself, but he still has no answers up to today.
This surreal illustration is called "Far Side of the Moon"
The drawing is taking place right here
This street artist covers an amazing amount of detail
"I wish my art to make our world better"
This piece is called "The Last Romantic"
Millions of tiny dots
This piece is titled "Guessing On A Cabbage Head"
"I want people to look around and think"
This illustration is called "Fox in Apricots"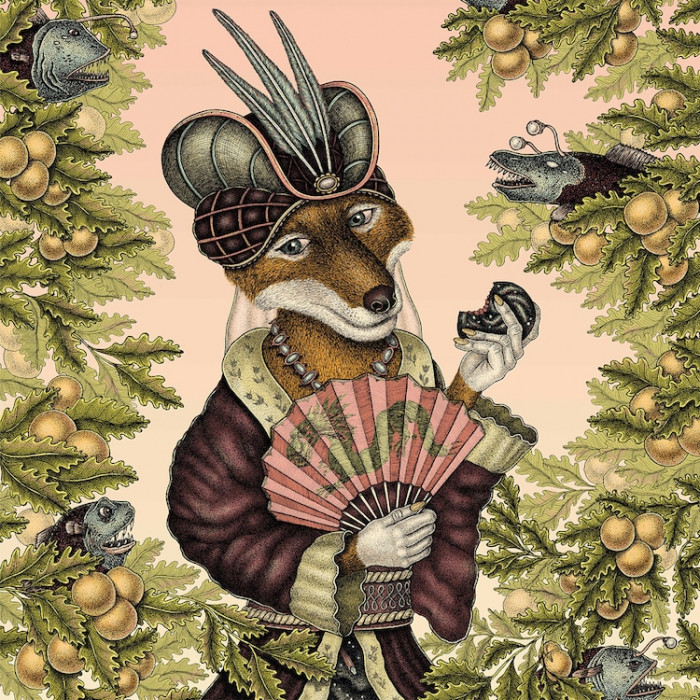 Another amazing art is being drawn
This bears the title "To Draw or Not to Draw"
And here we have "The Trivial Round"
Next is titled "Freedom of Speech"
While most of his drawings are monochrome...
Others are colored digitally, bringing even more life to the scene...
A fix in an outfit
The drawing proper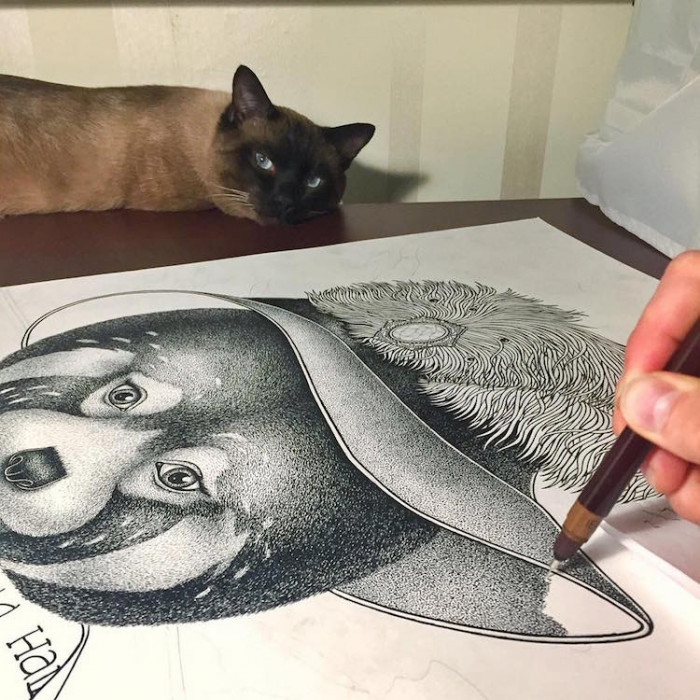 Isn't this beautiful?
It was achieved with some "Extra Effort"
And finally, we have "Rendezvous, or Memory of the First Love"
These pictures show that we can actually bring to life whatever we can think of and even make something more wonderful out of it. Want to see more of Kashtalyan's portfolio, which is full of surreal illustrations?
Then, head over to his Website and you can also check him out on Facebook, Instagram, and Behance.