15 Perfectly Timed Celebrity Photobombs
No matter if your favorite celebrity is famous for their acting skills, singing, making everyone laugh, or dancing, they all share one major commonality. And no, it's not the crazy amount of wealth (which most have) or that they get invited to some of the most exclusive events with hella swag (which most also do), and it's not even the fact that they have a huge fanbase, (although that comes with the "celebrity" territory).
Okay, so they have a lot in common, I guess, but that's not the point. The point is that celebrities get their pictures taken a lot, like a LOT a lot.
Constantly hounded by paparazzi, official photoshoots for magazines, movie or TV show releases, Red Carpet events, selfies with fans. A huge part of being in the spotlight is also being in front of a camera in one way or another, essentially nonstop.
But with all their experience being caught on camera, each famous person has quickly learned which angle is their best, how to pose in any which way, and whether to smile or smolder. Looking good on camera is part of their job.
So when they seem to break character, or just not be in ultra-serious celebrity mode and surprise a fan or fellow celebrity with a perfectly timed photobomb, it's almost like an extra special treat. And I'm sure if a fan later looks through their photos with their favorite celeb and sees another being silly in the background, it's almost guaranteed to become their new favorite picture.
In case you've been a recluse since 2008, a photobomb is when someone interjects themselves, either very obviously, or in a sneaky way, in order to completely change a photo. It's a sort of disruption that is meant for good fun, it's meant to be silly and to make people laugh.
So, for a quick smile, we gathered 15 of our favorite celebrities who happened to get photobombed by other celebs. Keep scrolling to see more.
1. Jessica Biel photobombed by hubby, Justin Timberlake
2. Joe Manganiello smolders while Channing Tatum sneaks up behind him
3. Australian Field-Hockey Athlete Jayde Taylor discovered she got photobombed by the freaking Queen of England
4. Elizabeth Banks, Eric McCormack and Tom Hanks cozy up for a selfie, and Josh Gad saw an opportunity
5. Pop-Star Nicole Scherzinger got an extra special treat after taking a selfie with Tim Burton, when she noticed Helena Bonham Carter in the background
6. Jessica Seinfeld proves that Jerry isn't the only funny one in the family by snapping prom photo with Jerry's backend in the background

7. Cindy Crawford and her hubby share an intimate moment... with George Clooney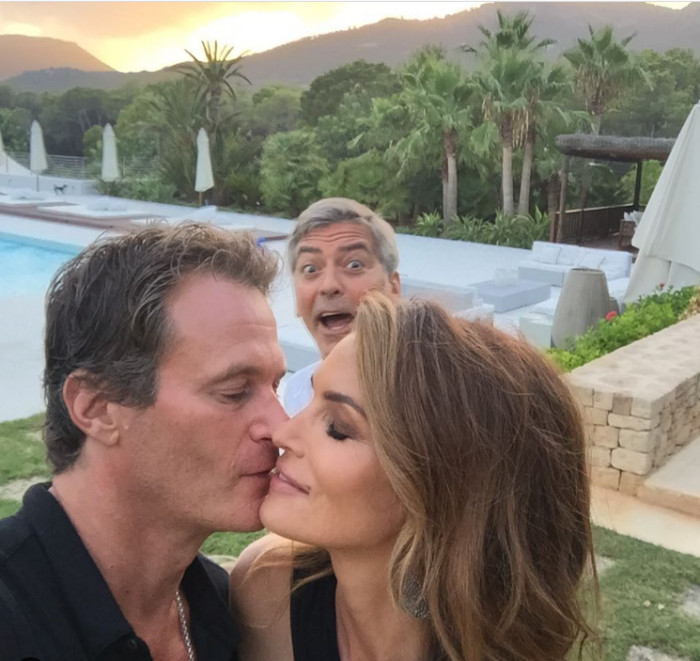 8. Bill Skarsgård is one of many in his family to act, and his big brother Alexander Skarsgård seized his opportunity to photobomb him at a media event
9. Kerry Washington got the best photo with Dr Shefali Tsabary when Oprah popped her head in
10. Kim Kardashian's selfie was crashed by celebrity hairstylist Jen Atkin
11. Blake Lively joked about a "crazy fan" photobombing her selfie, but was she talking about Taylor Swift in the back, or the kangaroo in the front?
12. Bradley Cooper photobombed a selfie with Brad Pitt, a very Brad picture indeed
13. Gillian Anderson shared some pictures from filming The Crown, one with Olivia Coleman as The Queen taking advantage of a perfect photobomb
14. Brad Pitt turned the tables and photobombed costar Margot Robbie
15. Mark Hamill and Lupita Nyong'o shared a sweet embrace, only for Oscar Isaac to make it even better
Which photobomb in this series was your favorite? I think it was especially wholesome to see Her Majesty, Queen Elizabeth II seeing a perfect moment to photobomb the Australian Field-Hockey athlete.
Like, could you even IMAGINE that happening to you? Even if you're not part of the Commonwealth, what a treat.
There's something really sweet about the photobombs on this list, and I hope it made you smile at the very least. Let us know which photobombs were your favorites in the comments below, and be sure to share this article with your friends!