British Tumblr Users Roasting The Hell Out Of Anything That Has To Do With America
Roasting the United States of America is something that all internet users from all over the world enjoy doing, at least the English-speaking side of it that we can access. Britain usually starts the roast, and then everyone eventually joins in, and things become much more interesting after that.
Roasting, in general, is something that social media users love seeing and participating in, it's the best kind of entertainment, and it's also original and random. When someone decides to start roasting entire countries and the weird things they do, everyone wants to be part of that in one way or another, then hilarity ensues.
The roasts usually make fun of how Americans call some normal everyday items and also point out the things that Americans consider normal but everyone else in the world finds weird. Some things are specific to some countries and seeing them from another perspective completely blows your mind.
Scroll down and check out some ruthless roasts of America that are mostly from British people but also include people from all over the world. Last time Britain got roasted by the rest of the world, especially their food, but this time it's America's turn.
1. Capitalist America Loves Being Capitalized.
2. Canada is a good boy, unlike America.
3. The American version of Kitchen Nightmares is wild af
It's always so unpredictable and random.
4. How dare you disrespect tea like that.
America, WHAT ARE YOU DOING
5. That's one of the many things America doesn't have.
6. Craving that sweet sweet taste of radiation.
It's an essential ingredient in every American tea.

7. The things only Americans understand, and the rest of the world has no clue what they are
8. It's because you park your car there. DUH.
9. God Bless The Brits
10. They do it only to piss the British off.
11. Well, well, well. How the turntables...
12. Americans can only handle one.
13. It's about how you feel on the inside.
14. "That sounds fake but go off I guess..."
You don't need to know that.
15. How every British person imagines America:
16. British people putting beans on toast as a meal.
17. They went for the double kill in the end. Ouch.
18. In that case they decided to do the opposite of what the British do.
19. We can own your soul, but you can't consume alcohol yet.
You can do so many terrible things legally at 18 but still can't drink.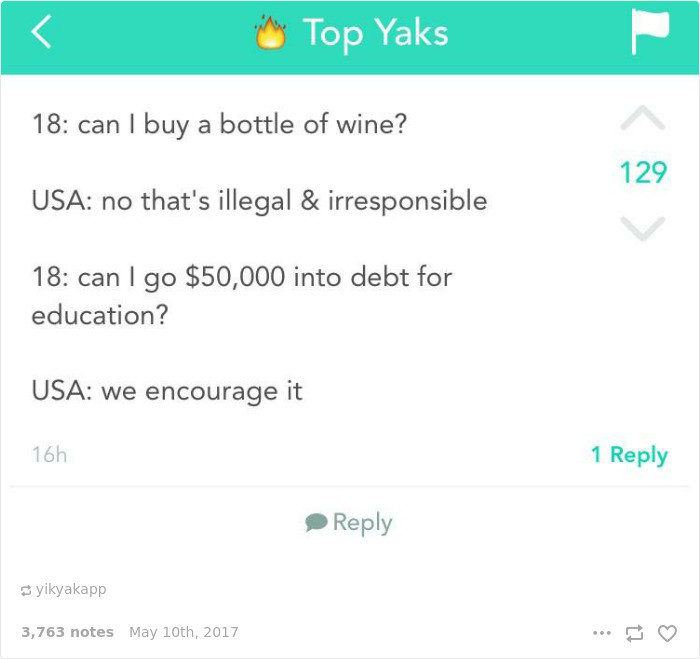 20. The difference between British and American English.
21. The only place where you have to pay to apply is America...
Paying just to be rejected after a few weeks.
Both the British and Americans don't approve of each other "lifestyles", but it's always hilarious to see the two countries roasting each other on the internet. Sometimes several other people from different nationalities even join in on the roasting and gang up on one of them.
These are all jokes, of course, if you enjoyed this list, make sure to check out similar content on our platform.