Here's How The Characters From The Percy Jackson Universe Would Look Like In Real Life, Compared To Their Movie And Series Counterparts
A lot of people's inner child has woken up once again when Rick Riordan announced that he would be collaborating with Disney+ for a long due Percy Jackson and the Olympians series because let's face it, none of us OG PJO fans were happy with the two movies that came out in 2010 and 2013 (including Uncle Rick, who has been very vocal about it).
We loved Logan Lerman as Percy and Alexandra Daddario as Annabeth, but hey, you gotta stick to the books!
Fans would always swear over the years that the book series deserved better, and it deserves all the hype and commercial success that the Harry Potter franchise has had all throughout the years. But we can now stop wallowing in complaints because we're finally getting our wish: a series that's faithful to the source material.
The first season would reportedly have eight episodes, covering, of course, the first book. Uncle Rick wishes that the series would span five seasons, probably one for each book, and we can't exactly say we aren't pumped up with the possibility of it!
The series should be on our screens sometime around 2024, but we're betting it would come earlier. In the meantime, though, scroll down and relive all your Camp Half-Blood memories by seeing all these side-by-side comparisons of the characters in their book (AI-generated), movies, and the upcoming series versions!
1. Percy Jackson, as described in the books:
"Black hair" that "never stayed down straight" and "seagreen" eyes.
Logan Lerman as Percy in the movies:
Side by side:
Walker Scobell, who plays Percy in the upcoming Disney+ series.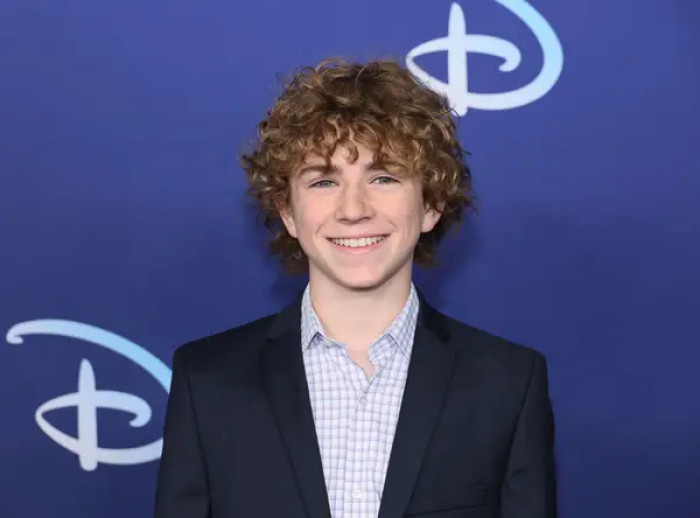 Side by side:
2. Annabeth Chase
"Honey-blond hair" "curled like a princess's," "startling gray [eyes]," and with a "deep tan."

Alexandra Daddario as Annabeth in the movies:
Side by side:
Leah Sava Jeffries, who is Annabeth in the series:
Side by side:
3. Grover Underwood:
"Curly brown hair" with the "start of a wispy beard on his chin."
Brandon T. Jackson as Grover in the movies:
Side by side:
Aryan Simhadri, who plays Grover in the series.
Side by side:
4. Chiron:
"Middle-aged," with "curly," "thinning brown hair," "a scruffy beard," and "intense brown eyes".
Pierce Brosnan As Chiron in the first movie:
Side by side:
Glynn Turman, who plays Chiron in the series.
Side by side:
5. Luke Castellan:
"Mischievous," "tall and muscular," with a "sharp nose," "short-cropped sandy hair and a friendly smile."
Jake Abel as Luke in the movies:
Side by side:
Charlie Bushnell , who plays Luke in the series.
Side by side:
6. Clarisse La Rue:
"Bigger and tougher looking" than Percy's old bullies, with "pig eyes" and "stringy brown hair" that's sometimes described as "dirty blond."
Leven Rambin as Clarisse in the second movie:
Side by side:
Dior Goodjohn, who plays Clarisse in the series.
Side by side:
7. Sally Jackson:
She has a "smile ... as warm as a quilt," "a few gray streaks mixed in with her long brown hair," and "multicolored eyes" that at one point look "the color of the sea."
Catherine Keener as Sally in the first movie:
Side by side:
Virginia Kull as Sally in the series.
Side by side:
8. Thalia Grace:
"Unruly black, punk-style hair" that's also described as "spiky" and "ragged," with "freckles across her nose" and "stormy blue eyes."
Paloma Kwiatkowski as Thalia at the end of the second movie:
Side by side:
She doesn't appear in the first book, so no one was cast as her just yet.
9. Tyson (with the Mist):
He has a "big lumpy nose," a "calf-brown eye" (though here he has two eyes), and "thick lashes."
Douglas Smith playing Tyson in the second movie:
Side by side:
Tyson appears in the second book so no one was cast as him yet.
We know you're also excited for these two:
They haven't appeared in the movies yet and no one has been cast for the series but we're excited!
10. Nico di Angelo:
"Shaggy," "dark silky hair," with "olive skin" and "dark [eyes]."
11. Rachel Elizabeth Dare:
"Frizzy red hair," with "green eyes" and a "sprinkle of freckles on her face."
There is no denying that we're excited for all the Percabeth scenes (that's a given), but which one of these characters are you looking forward to finally seeing in the series? We're all trusting the whole thing to Uncle Rick so this won't disappoint!
Comment down your thoughts, or share this article for all other PJO fans to see!