Men Who Used Exactly Two Brain Cells While Texting And Made Sure To Be Extra Creepy About It
Being nice and pretending to be nice to manipulate someone into giving you something are two completely different things. Many guys make the bold claim that they are nice but can never keep the lie going and eventually end up exposing themselves.
They think they are entitled to something after blessing someone with their niceness and are usually furious after not getting what they want. The fact that these guys are in such a hurry to get to whatever is on their minds always ends up ruining their plans that always end up failing miserably.
Texting is not for everyone; some people still have a hard time communicating with people without creeping the hell out of them. If someone happens to be a creepy person, nothing in the world can help them hide it because of how much the creepiness imposes itself in their daily lives.
Pretending doesn't work either because they just can't help but be creepy, it's a curse that is almost impossible to break. The screenshots below contain some of the cringiest text interactions people were unfortunate to have with men.
Scroll down and get ready to completely lose faith in humanity, these screenshots will make you want to delete all of your social media accounts.
1. That's not how people play 21 Questions bro.
2. That transition was wild. He handled like a boss.
3. "Girl this ain't Glee"
4. "My boyfriend cheated on me, so i broke up with him, and this was his reaction. such a charmer!"
5. No introduction, from 0 to 100 real quick.
6. Some people don't know when to stop.

7. "I NEVER ask for nudes, but if I DID magically get them...."
8. "An actual conversation i had with a 30 year old"
9. "This is my classmate who I see twice a week max and have repeatedly told I'm not interested in him"
10. So excited... Just can't hold my excitement.
11. "Friend of ex-husband messaging me 30 minutes after I make our divorce public."
12. "Why would you go out like that, sent to my friend"
13. What a lovely and caring bloke.
14. Some boyfriend material right there
15. Just randomly forgetting that you have GF
16. What texting a wannabe car guy is like:
17. Now that's how you break the ice.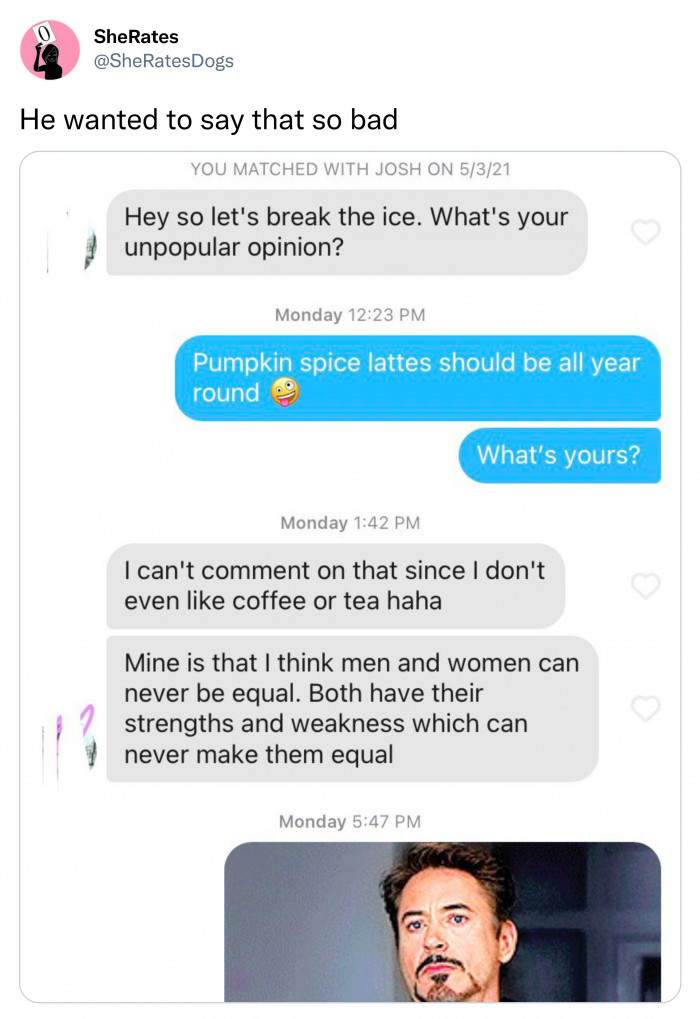 18. "I salute this cringe."
19. He talks like a caveman
20. Literally no one asked but okay...
21. The sad part is he probably had that line memorized.
22. "Got unmatched after this (arguably) appropriately timed response"
23. "Dear men, can you please have a talk with your friends? This ain't it."
24. "This guy just got done posting 4 comments in a row on one of my girlfriend's pics. He then proceeded to send this gentle warning."
25. "His bio vs. His pickup strategy..."
26. "Boys Gone Wild"
27. Sounds like the same thing to me.
28. "Wow you so beautiful. Wow message didn't send separately. Wow leave group."
29. "Never assume"
30. "Another Nice Guy in the friend zone. He deleted both comments."
31. "Manliest sip of all time"
The moral of the story is if a guy you're talking to claims to be a "nice guy" they are probably not. They don't even pretend to be nice for a while to trick you, they have so much rage and anger built up inside that makes them extremely impatient.